A Vancouver photographer is combating the shame associated with emotional eating by snapping photos of people munching on their favourite snacks — in the nude.
Though the most recent photo in Jackie Dives' Comfort Food Series was taken a few months ago, the project — which is ongoing — recently caught our attention. There is a vulnerability to the series, the idea for which Dives said came from a rather personal place.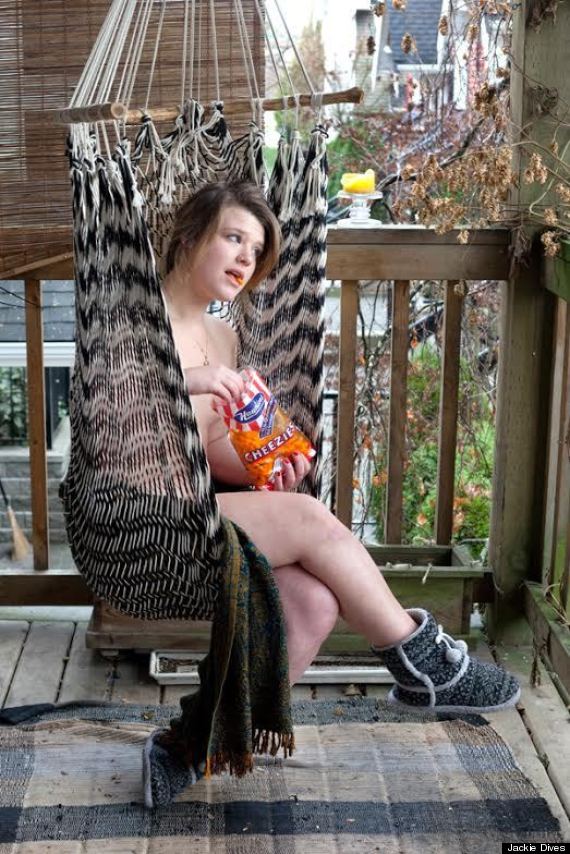 "I think my own struggles inform my projects," Dives told The Huffington Post B.C. via email. "I definitely struggle with self-esteem related to my physical appearance and being naked, and often find myself eating to soothe."
All of the models are Dives' friends, or friends of friends; she said despite the revealing nature of the project, she didn't have a hard time getting people on board.
"It must have been an idea that resonated with a lot of people, because I am constantly getting people volunteering for this project, and really excited about doing it," she said. "The food is actually providing comfort, which makes posing nude easier. It's been a really interesting dynamic."
Dives also used to be a doula and birth photographer, making headlines in 2013 for her provocative and stirring home birth images.
For the self-taught photographer — who said she's "100 per cent an emotional eater, and I'm sort of okay with that" — the Comfort Food Series is an extension of her ability to find her subjects at their most raw.
"When I look at the photos, I see people in a vulnerable situation, being brave, and saying, 'This is what I like to eat. This is what I look like. Both of those things are okay,'" she said.
See more of her work (warning: contains nudity):