For just one time in its history, Toronto isn't the most hated place in all of Canada.
This week, that honour goes to the West Coast, where social media users have been throwing images of warm weather right in the faces of Canadians enduring the effects of an East Coast blizzard and a heavy snowstorm in the Maritimes.
Meanwhile, mild conditions continue in British Columbia where high temperature records were broken over the weekend. Vancouver, for example, hit 14 degrees Celsius.
Stay warm east coast😌💁❄️ pic.twitter.com/pklDupIHhU

— Simran (@san_sim) January 26, 2015
What a Beautiful warm day in Vancouver BC pic.twitter.com/cCoR1zMEqd

— Angie Simpson (@asimpson666) January 26, 2015
A surprisingly warm 14C #winter afternoon @ #NewBrighton #Park #Vancouver #EastVan #NotAllCanadaIsFrozen 😄 pic.twitter.com/gQstz60H0B

— kent matthiesen (@kenters55) January 26, 2015
Gotta love these unseasonably warm winter days #Vancouver pic.twitter.com/AIBbUb8awX

— Mellomanic (@mellomanicband) January 26, 2015
My walk to work today. Great weather. @news1130weather #VANCOUVER pic.twitter.com/xn0esuGI7j

— Matt Jackman Wong (@Mattyattack) January 26, 2015
But seriously, this Vancouver weather be like:

January 26, 2015
Of course, there's a downside to warm winter weather. Just look what happened to Cypress Mountain near Vancouver, which is normally teeming with skiers and snowboarders.
It's a washout on Cypress mountain #cbc pic.twitter.com/Q4ZhrkFs1J

— Farrah Merali (@FarrahMerali) January 23, 2015
But West Coasters aren't alone in basking without their coats. Calgary is seeing spring-like weather, with temperatures reaching as high as 17.2 degrees Celsius on Sunday.
Very cool clouds making for a nice view on a warm night in #Calgary. pic.twitter.com/ZifciXQ4xG

— IWantToFish.com (@IWanttoFish) January 27, 2015
It's incredible warm day in Calgary. I was not along who run in shorts! #yyc #runcalgary #run #sunset #calgary pic.twitter.com/fsM6MWAf5c

— Michael Maltsev (@Michael_Maltsev) January 26, 2015
Of course, it's less annoying to hear this from Calgarians. After all, this is what winter usually looks like there.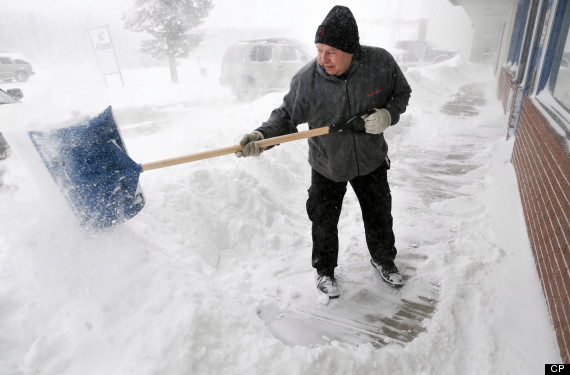 (Photo taken in December 2013)
Those West Coasters, though ... Grrr ...
Like Us On Facebook

Follow Us On Twitter

ALSO ON HUFFPOST: