It's time for a little spring shopping!
Now that the weather's finally warming up, we're getting ready to wear all the hottest spring styles for 2015. This season's runways were filled with everything from sporty dresses to lovely lace and shining sparkles, proving that when it comes to fashion these days, anything goes.
But of course, there's still plenty of trends that surface during the shows, and we've rounded up all the best ones up just for you. Check out some of the best spring 2015 trends in the gallery below!
(Story continues below the gallery)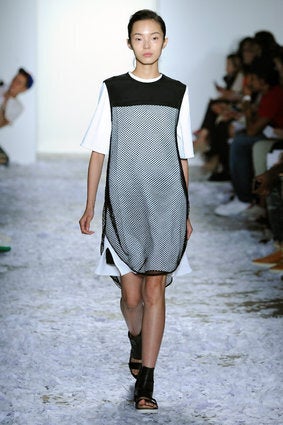 This spring, dresses got a major athletic overhaul. Designers/labels such as Alexander Wang and Topshop Unique sent models down the runway in fitted frocks in performance-fabrics, while other designers, such as the boys of Public School, added mesh elements to their designs.
Fringe was everywhere on the spring runways, proving it's the accent of the season. Seen on pants, like at Pucci; skirts, a la Proenza Schouler; and even vests, like at Isabel Marant, the trend was reimagined in pretty much every way possible.
The Canadian tuxedo is officially high fashion, at least according to labels like Gucci and ICB. This trend is definitely one we can stand behind, as it's comfortable, simple, and often affordable (since jeans are available at so many different price points these days).
We saw an abundance of feminine silhouettes on the runways, which we think are perfect for spring. There's just something about a full skirt, like the ones at Oscar de la Renta and Ralph Lauren, that makes us think of warm weather picnics in the park.
Lace can be super sexy or ultra feminine and sweet, which is just one of the many reasons we love it. It's versatile! This spring, the intricately designed fabric popped up everywhere from Givenchy to Blumarine.
We love a great print, especially for spring, and the season's runway's definitely delivered. From the moody florals at Celine to the artsy prints at Marni, we loved them all.
This spring, it's time to shine! We saw plenty of glittering looks from designers such as Versace and Tom Ford, affirming our opinion that glitter is always a good idea.