Every few years, Earth's atmospheric forces align in a certain way to gift Canadians with milder-than-average winter weather.
This is one of those years.
On Tuesday, Australia's Bureau of Meteorology confirmed El Niño conditions have been met for the first time since 2010.
"Prolonged El Niño conditions have meant that some areas are more vulnerable to the impact of warmer temperatures and drier conditions," said climate information services assistant director Neil Plummer.
For Canadians, it's a weather phenomenon that likely means milder weather after the second-coldest back-to-back winters in 68 years, according to Environment Canada senior climatologist David Phillips.
"We weren't imagining it, it was tough," he told The Huffington Post Canada. "It was a lot of misery with ice storms, and frost quakes, record cold, and Great Lakes freezing over."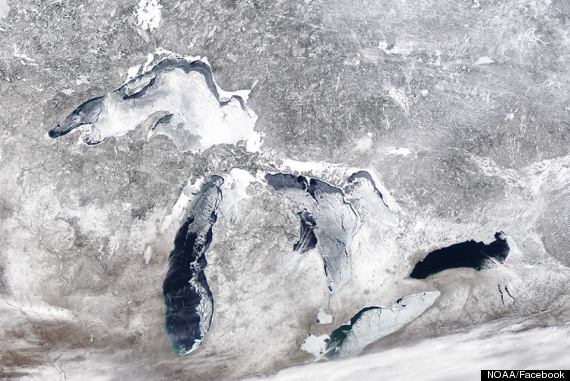 The Great Lakes saw near-record high ice coverage this past winter. Credit: NOAA
The National Oceanic and Atmospheric Administration declared the arrival of the "long-anticipated" El Niño back in March, citing records of above-average sea temperatures in the eastern tropical Pacific.
Snapshot of global sea surface temperatures on April 9. Credit: NOAA
But Phillips says Canadians will have to be patient — the effects of this year's "strong" El Niño won't be felt here until the late fall, winter, and spring.
"Those warm breezes can make it all the way to Toronto, to Montreal, and even to Halifax," Phillips explained. "And they kick the cold air farther north — they push it way up north, where it belongs."
For those in Western Canada, milder weather could mean another brutal year for ski-hill operators. Vancouverites enjoyed a warmer-than-average winter, thanks to a warm patch of water off the West Coast.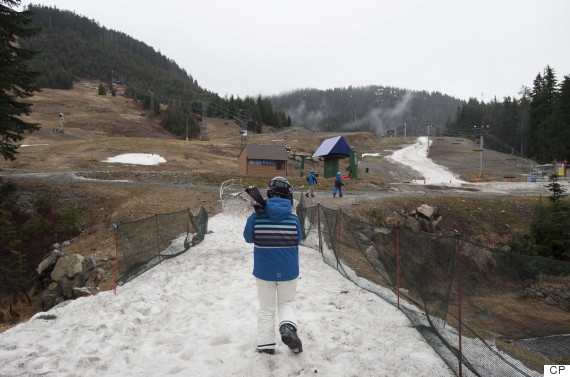 A skier makes his way to the ski run at Cypress Mountain in West Vancouver, B.C. Feb. 9. The local ski hills around Vancouver have suffered with little to no snow this winter due to warm temperatures and rain. THE CANADIAN PRESS/Jonathan Hayward
The warm water is sticking around, Phillips said, so those in Vancouver and the Lower Mainland can expect less snow again this year — and more rain.
Higher regions like Banff and Lake Louise may see less snow. But lower precipitation also means an increased risk for forest fires in the Prairies come peak summer and early fall. Farmers may have to wait until 2016 to see benefits for their fields.
"Farming can be good," said Phillips. "As long as you get those spring rains."
Northern Canadians can expect to bear the brunt of the worst that El Niño has to offer. That means cold winter winds pushed north from the south.
Ontario, Quebec, and Maritimes residents, meanwhile, can expect to see a more bearable winter than its most recent cold seasons.
The longtime climatologist is choosing to err on the side of caution when it comes to making "it will be like this" forecasts. Melting Arctic sea ice is a "wild card" and it's also why it's harder to make conclusive weather predictions than in El Niño years past.
But there is one bet Phillips is comfortable making.
"This winter will be warmer than the last two winters," he said.
Like Us On Facebook

Follow Us On Twitter
ALSO ON HUFFPOST: