In the future, we will tell our great-grandchildren stories of the most captivating events of our lives, and when we can't think of anything exciting that happened because we were all on the Internet, we will wax poetic about this:
FREEBIRD
Yes, that is a majestic peacock gliding through Toronto's Roncesvalles neighbourhood. Police have been looking for the aspiring Cirque du Soleil bird since it escaped the High Park Zoo on Wednesday, according to the Toronto Star.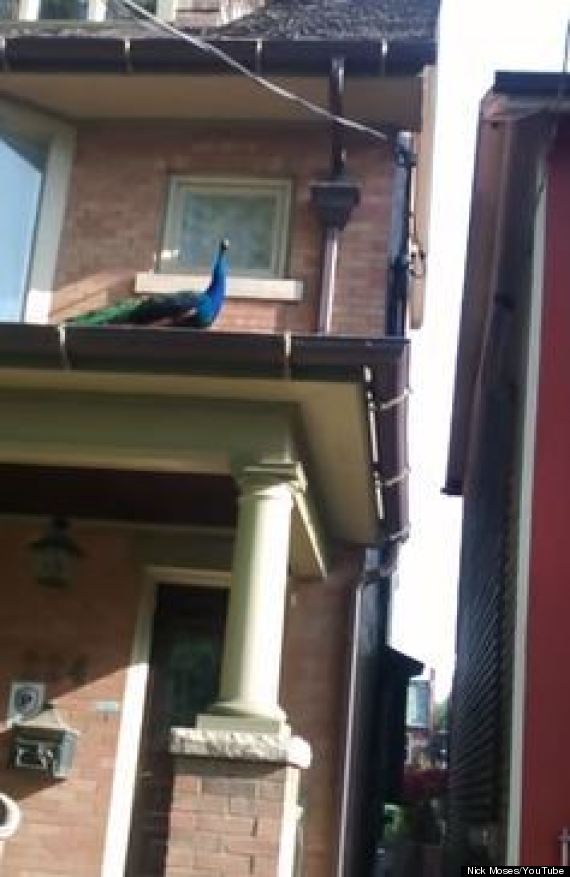 Thanks a lot, Toronto housing market. I can't afford any of these homes! Also, I am a peacock.
Toronto, which blessed the world with the unbelievable tale of the IKEA monkey, was naturally captivated by the fowl's feat, and of course someone had to make it a Twitter profile.
Just going for a stroll. #TorontoPeacock

— Pea Cock (@TorontoPeacock) May 29, 2015
YouTube user Nick Moses uploaded a video Friday (embedded above) of the escapee, and Twitter users shared photos.
Happening right now: escaped #peacock from @HighParkZoo on my roof! Anyone help? pic.twitter.com/Qbl8vSzYNn

— Rebecca Davies (@RebsD) May 29, 2015
Peacock calling for his friend to return home. His wife and friends are missing him pic.twitter.com/QIVBnN8ez8

— Sarah Doucette (@DoucetteWard13) May 29, 2015
Living the high life #torontopeacock pic.twitter.com/33sAFSzJBl

— Iain Mc (@IainMcTO) May 29, 2015
Nicole Ware, a Toronto Animal Services spokesperson, said "something gets out of High Park" every year, according to CTV News. So hang tight for next year's installment of Toronto Animals Breaking Free™. (Not actually trademarked.)
Will the authorities catch the feathered bandit? We'll let you know when (or if) they do. In the meantime: