Const. Daniel Woodall, 35, was among the officers executing an arrest warrant for criminal harassment as part of a hate crimes investigation. The shooting began when officers attempted to breach the door on Monday night.
Woodall was hit when shots were fired from inside the home. He died of his injuries at the scene.
Another police officer, Sgt. Jason Harley, 38, was shot in the lower back but is expected to make a full recovery, said Edmonton Police Service Chief Rod Knecht.
Knecht said at a press conference Tuesday that a body was found in the basement of a burned out home on 186 Street and 62A Avenue. An autopsy will be conducted later today to identify the remains.
Witnesses said the shooting suspect set fire to the home while he was still inside.
Raddatz was known to police, with what was described as a minimal criminal record. Raddatz has an extensive hate crimes file stemming from cyberbullying an Edmonton family, according to CBC News.
"He's a single guy, two kids, wife left him along time ago," a neighbour named Ryan told CHED Radio. "Sits at home every day, he's an alcoholic, just snapped. I don't know what they were arresting him for, but they had a file for him."
Edmonton police said they are not looking for any other suspects.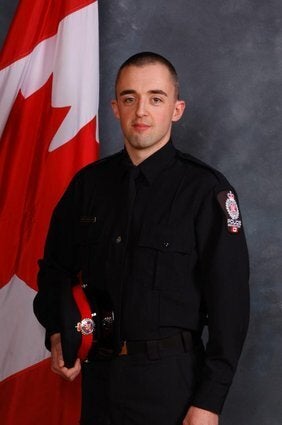 Edmonton Police Shooting, June 2015