A Conservative MP honoured fallen Edmonton Const. Daniel Woodall this week with simple words that reflect the great sacrifices made by police officers.
Laurie Hawn, who represents the riding of Edmonton Centre, rose in the House of Commons Wednesday to paraphrase a poem, titled "Police Sacrifice," that often surfaces in the wake of tragedies like the one that has rocked his city.
Hawn said the thoughts he was about to express could have been made by thousands of others.
"While you sleep, we're out there," Hawn began. "While you're sitting down at Thanksgiving or Christmas, we're out there.

"When it's raining and cold and you're glad to be home with your family, we're out there. When it's your children's birthday, we're out there. When it's our children's birthday, we're still out there.

"When you're scared, you call us. When we're scared, we carry on.

"While you're asleep with your spouse, ours sleep alone. When you tell your families 'see you tonight' as you leave for work, you mean it. When we tell our families that, we pray that we will."
Hawn suggested Canadians should think about the contributions made by police officers every time they see a patrol car go by.
"Inside that car is a person who sacrifices his or her life, both professionally and personally, every day," he said.
He ended his speech with prayers for Woodall and his young family, Sgt. Jason Harley who was injured, the Edmonton police, and all police forces.
Woodall, 35, was shot and killed and Harley, 38, was wounded Monday night while executing an arrest warrant for Norman Raddatz, who was being investigated for an anti-Semitic hate crime.
Edmonton Police Chief Rod Knecht said Raddatz, 42, unloaded a barrage of bullets on eight officers at the scene. After the shooting, the house was set on fire. Police believe Raddatz's body was found in the basement, though an autopsy is needed to identify the remains and cause of death.
With files from The Canadian Press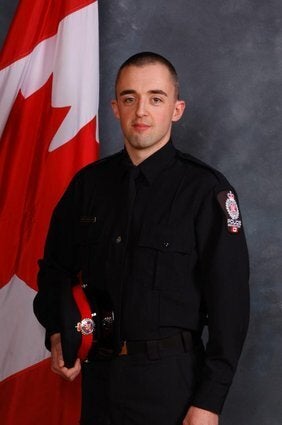 Edmonton Police Shooting, June 2015