If you live at 667 Howe St. in downtown Vancouver, you can't avoid Bruce Langereis. It's not only because he's the developer of the Private Residences at Hotel Georgia; he's also your most enthusiastic neighbour.
He runs into a family holding a bag of takeout dinner in the elevator and asks if they're going for a picnic. No, they're headed to visit a relative who's under the weather.
This is not an elevator where residents repeatedly hit the "door close" button when they see other people coming.
"You can have the best condo in the world but if the culture of the building is not good, it can be a bad experience. And all the money in the world isn't going to make it. And we're really fussy about that," said Langereis in an interview with HuffPost B.C. "That's why I live here … I'm all about doors open, how's your day!"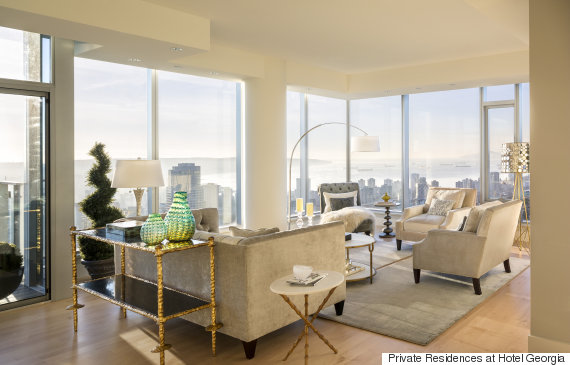 The show living room in the 48th-floor penthouse.
Fresh from a trip to Singapore, the president of Delta Land Group apologizes for being jet-lagged, then proceeds to energetically list off features about the 48-storey tower.
Residents can access any of the amenities (for a fee) from the adjoining five-star Hotel Georgia, including catering from Hawksworth restaurant, spa services, maid and room service, valet parking, and use of the saltwater lap pool. Langereis and his company restored the 88-year-old heritage property, which is managed by Rosewood Hotels.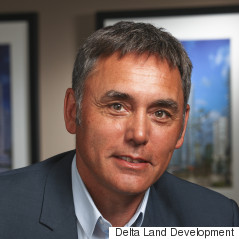 The Private Residences tower, which connects to the hotel on the fourth floor, began pre-sales in 2007 and now has six units remaining on the market.
But they're no ordinary suites: five sub-penthouses that take up half a floor each, ranging from $7.7 million to $8.1 million — and a true penthouse that covers the entire top floor.
The 6,832 sq.-ft. home offers a glorious 360-degree view from several balconies. One corner of the penthouse is set up as a sumptuous dining/living room for now. The rest is an empty concrete shell, since someone who can afford the $18-million price tag will presumably want to custom-design pretty much everything.
"Selfishly, I'd like to see someone who's really going to enjoy this and appreciate it and embrace what we're offering," said Langereis, stopping short of saying he would veto a potential buyer.

"I could never not do that but I'd be a lot tougher to negotiate with," he offered.

"Let me put it this way, if it's someone's who's going to invite me back for a social up here, I'd probably do a better deal than someone who's going to buy it and never invite me or invite anybody from the building. Or never be part of the hotel or part of the chemistry of the city."
Langereis raised a few eyebrows this month when he told Business in Vancouver that he wants a buyer who has lived in the city for at least five years and is committed to staying.
Realtor Malcolm Hasman, who helped market a $51-million Vancouver mansion that was purchased by a businessman from mainland China, says Langereis' demand is unrealistic.
"Many of the buyers that I see in the high-end luxury real estate market reside in Vancouver two to six months a year and have international business," Hasman told BIV.

The panoramic view from one of the penthouse balconies.
Studies and reports on Vancouver's unreal housing market come almost daily now, each one more discouraging than the last for young or first-time buyers. The cost of a single-family home in the city now eats up almost 86 per cent of a typical household's pre-tax income, said an affordability report from RBC Economics on Monday.
Last week, a poll by Angus Reid Institute found two-thirds of Vancouver respondents believe foreign investors are a main cause of high housing prices. (But no one really knows because the government doesn't collect official data on offshore homeowners.)
It's no secret though that Vancouver's spectacular natural landscape and laid-back lifestyle attract buyers from around the world. U.S. investors with the purchasing power of their currency are back, scouting secondary homes and vacation properties.
China's wealthy prefer to park their money in the relative safety and extravagant mansions of a "hedge city" like Vancouver than expose it to risk at home, reported The Harvard International Review.
Other luxury condo towers are more than happy to welcome foreign buyers. Vancouver House, designed by star Danish architect Bjarke Ingels, will offer an "asset management program" to absentee owners, reported the South China Morning Post. Managers will switch on appliances regularly and run the taps if a unit is going to be vacant for a while.
More than one-third of the 59-storey twisting tower has reportedly been sold to buyers from Asia, the U.S., and Europe.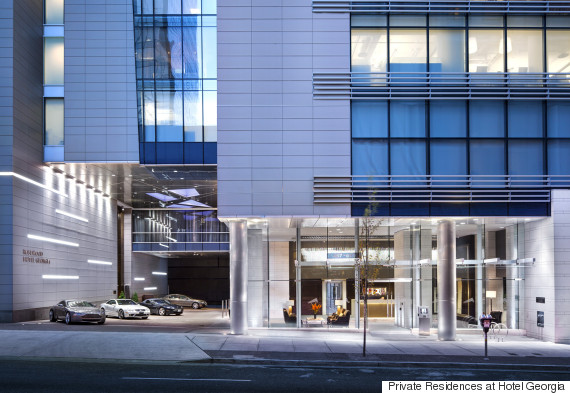 The front entrance of the Private Residences at Hotel Georgia.
Langereis has a "good for them" attitude.
"Bravo, you're selling it," he said. "But think about that, if you bought there to live there, how are you going to feel if it's so transient (when people flip their condo).
"It's not our style. It's not the way we do things."
Langereis, who flies his own helicopter to go solo camping at remote sites, is willing to be patient.
Private Residences At Hotel Georgia



The Private Residences opened one year later than anticipated, having pushed through the 2008 recession and the introduction of the HST in 2010, which was cancelled in 2013. (Seven per cent tax on a multi-million dollar deal is not ideal for buyers.)
Several owners, including former prime minister Kim Campbell, sued when the condos were not completed on time, but the lawsuits were settled out of court.
Looking out the floor-to-ceiling windows toward St. Paul's Hospital where he was born, Langereis reflects on coming from a "poor family from Europe that immigrated here" and growing up in East Vancouver.
"I don't want to just follow and do what's easy, I want to do what's right," he said.
"This building will be here long after I'm gone. And I don't want anyone to point at the building with embarrassment.... I'd like them to say, 'Oh my dad, or I know Bruce, and that's a great building!' That's what I want."
Right now, Langereis wants a local buyer for that $18-million penthouse. And he's got a final pitch.
"One of the advantages to buying here is you get me as a neighbour."
Like Us On Facebook

Follow Us On Twitter

Follow Us On Instagram