Rescuers are trying to free a humpback whale that has been swimming entangled in rope in Maritime waters for at least five days.
The humpback was first spotted by Capt. Roy Small of the whale-watching boat MV Island Link in the Bay of Fundy off Nova Scotia's Brier Island last Thursday.
They initially hoped to free the whale that day with the help of New Brunswick's Campobello Whale Rescue Team and a boat from the Department of Fisheries and Oceans. But those rescue efforts were unsuccessful, and whale-watching boats have been on the lookout for the humpback.
The whale was spotted entangled yet again on Tuesday, according to a Facebook post from the Brier Island Lodge, which operates whale watching tours in the area.

The entangled Bay of Fundy whale that eluded rescuers on Thursday July 9th has been spotted today 1 mile off the Northern Lighthouse and it is working it's way down the Bay of Fundy. The Marine Animal Rescue Society - MARS has been notified. We found this footage on a cell phone from our 1st encounter on July 9th that shows the mass of ropes that are wrapped around the whale. We have no images of the whales' state today but we are hopeful that today is the day it is freed. We will be updating as information arises. Hope and prayers for this whale!

Posted by Brier Island Lodge & Welcome Aboard Whale Watching Tours on Tuesday, 14 July 2015
The video, which was taken the first day that the whale was sighted, shows the humpback emerging from the water with rope caught near its dorsal fin.
The rope, which is believed to be a fishing line, is disturbing the whale's everyday habits, Brier Island Lodge staffer Amy Tudor told The Huffington Post Canada.
"It's stressing the whale, so they don't go on their normal patterns of behaviour, they don't feed as easily," she said.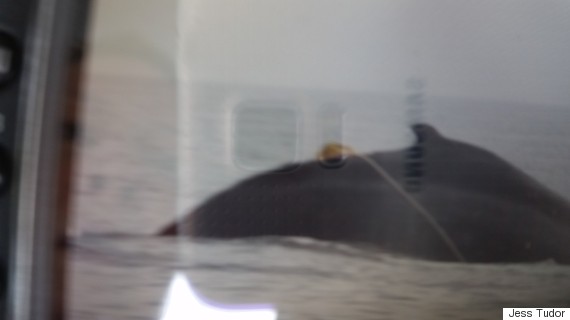 (Photo by Jess Tudor)

Rescue authorities were notified about the whale's latest sighting, but Fisheries and Oceans Canada couldn't free it due to heavy fog and choppy waters, Tudor said.
Fisheries staff hope to go out again and tag the whale with a satellite tracker on Wednesday, as it has been elusive, she added.
Andrew Reid of the Marine Animal Response Society told Halifax's Chronicle Herald that it's crucial to free whales from rope as quickly as possible in order to reduce any harm to the animal.
This isn't the first time recently that Canadians have had to free a whale from its entanglements.
Late last month, a humpback whale was freed after being caught in rope for over 24 hours off B.C.'s northern Sunshine Coast.
Like Us On Facebook

Follow Us On Twitter


Also on HuffPost
Humpback Whale Encounter Off Patos Island, Wash.