A Calgary teen who was paralyzed and left with serious brain damage after unknowingly taking fentanyl is "improving dramatically," according to a Facebook post from his father.
Anthony Hampton, 18, was rushed to the hospital last month after after he took a pill that he thought was OxyContin, but was likely laced with fentanyl.
He was found in bed not breathing and turning blue, said his father, Reg Hampton. Paramedics were able to get the teen's heart beating again in the ambulance.
Hampton — a former TV reporter and anchor in Vancouver and Calgary — went public last week with an emotional Facebook post, chronicling Anthony's experience.
This week, however, Hampton had brighter news to report: a new Facebook post says his son "is now fully aware of what is happening around him" and is regaining his ability to speak. He is also "moving his legs and arms around a lot."
However, Hampton said Anthony still does not remember taking the pill, or the events of the night he was taken to hospital.
"But we have filled him in on his near-death experience and all of the news coverage that followed. He is humbled and grateful to everyone. There is still a long road ahead, but we are more hopeful than we have been since he arrived at hospital a month ago."
Anthony is remorseful about what happened, saying he didn't mean to take the dangerous drug, according to his father.
"A tear kind of rolled down his right cheek and he said, 'I am sorry' and I just said, 'Anthony, don't worry about being sorry right now. We're just so happy you are with us and just get better,'" Hampton told CKNW.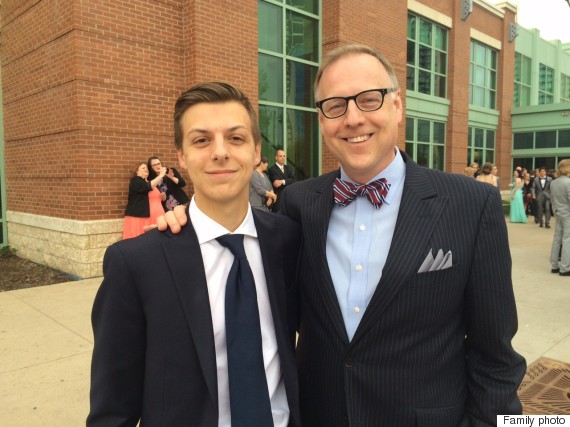 Anthony Hampton, left, poses at his high school graduation in May with his dad, Reg Hampton.
Hampton said Anthony will soon move to the brain injury ward at the Foothills Hospital for further rehabilitation.
Fentanyl — between 50 and 100 times more potent than morphine — is a white powder that's easily disguised and tough to expose, said Cpl. Luc Chicoine, the RCMP's national drug program co-ordinator.
The drug has been blamed for the deaths of at least 45 Calgarians between Jan. 1 and June 30 of this year, alone.
With files from The Canadian Press
Also on HuffPost
Fentanyl In Metro Vancouver