A Conservative environmental protection ad aimed at restoring British Columbia's salmon reserves is the subject of a fishy fracas.
The Ottawa Citizen was first to point out the Conservatives used an image of an Atlantic salmon rather than a Pacific salmon to symbolize the party's pending $15 million B.C. wildlife preservation policy. The newspaper notes the campaign material was originally sent out in a tweet by Stephen Harper, but was quickly taken down and replaced with a revised graphic on the Conservative Party's account. The corrected tweet used a Pacific salmon instead.
@CPC_HQ @pmharper I'll believe that when you can tell an Atlantic from a Pacific salmon. pic.twitter.com/MzDI5qjwU1

— Robert Jensen (@RobertJensen2) August 22, 2015
ICYMI - @pmharper announced practical and concrete steps to conserve our natural environment. http://t.co/BApD4n19TO pic.twitter.com/lX3z1yk9oD

— Conservative Party (@CPC_HQ) August 22, 2015
Lee Sutterby, a Northern England-based photographer, took the picture of the Atlantic salmon in question.
"I'm surprised some of Tories didn't spot it as I'm sure there'll be a few salmon fishermen among them," said Sutterby in an email interview with The Huffington Post Canada.
Sutterby also confirmed the photograph was taken on the river Tyne at Hexham, located in Northumberland county in the U.K.
"I am very surprised that they used my photo for their campaign which they obtained via a site called I-Stock and it does say Tyne UK," said Sutterby.
"The Atlantic Salmon is very different to what you would expect to see in British Columbia."
While Atlantic salmon are not native to B.C., some could live in the wild if they swim out of the confines of a fish farm. However, the Ottawa Citizen notes Fisheries and Oceans requests to be notified of any of these sightings, as "the department may wish to recover the fish from you."
But, the Green Party was also quick to identify the Conservative Party's fish faux-pas and equated this mistake with possible environmental ineptitude.
.@CPC_HQ we fixed your graphic - if you actually want to defend our coastline, just vote #GPC http://t.co/eXGRAREwks pic.twitter.com/TaUU2VA8km

— Green Party Canada (@CanadianGreens) August 22, 2015
This quickly-corrected mistake follows a more embarrassing campaign typo from earlier this month. After the first debate on Aug. 6, the Conservative Party declared Stephen Harper the winner of the night and misspelled his title as "Prime Minster."
oops... Guess the Prime "MINSTER" 's peeps need spell check pic.twitter.com/s7AzJoBGkf

— Francis D'Souza (@cityfrancis) August 7, 2015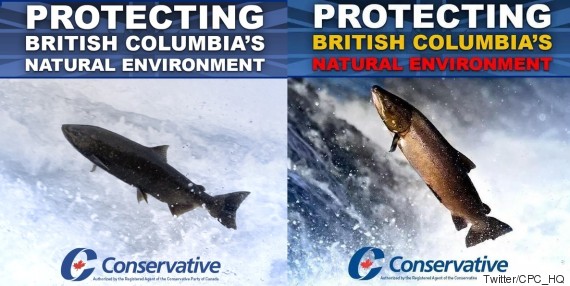 ALSO ON HUFFPOST:
In Photos: Canada Election 2015