The Canadian and U.S. job markets are headed in opposite directions.
While American employers are forecasting the strongest hiring season since before the Great Recession, Canadian employers are predicting their weakest season since Canada was emerging from that recession.
Manpower Group's latest employment outlook survey shows Canada with a net employment outlook of 6 per cent — meaning there are 6 percentage points more employers looking to add staff than reduce it. That's the lowest number, seasonally adjusted, since the fourth quarter of 2009.
"That suggests we might get softer job gains later this year," Bank of Montreal economist Benjamin Reitzes wrote in a client note.
The Manpower survey noted some positives in Canada's labour market, such as an increase in full-time work, "a positive change from recent quarters," the report said. 
"However, we are hearing some concerns regarding the market's instability, leading to some employers holding off on hiring."
Atlantic Canada has the brightest prospects for hiring, with a net employment outlook of 12 per cent. Ontario is in second place, at 8 per cent. Quebec and Western Canada expect "a fair hiring pace," at 7 and 4 per cent, respectively, the survey found.
By comparison, the U.S.'s net employment outlook for the fourth quarter of this year is 18 per cent, seasonally adjusted. That's the highest number since the fourth quarter of 2007.
The diverging numbers reflect a strengthening U.S. job market and a Canadian job market that — despite doing better than expected amid a technical recession — is showing signs of weakness.
StatsCan's labour force survey for August shows Canada added 12,000 jobs in the past month and 193,000 over the past year. This growth in employment is why many economists dispute that Canada is in a "real" recession.
But last month's numbers showed shrinking employment in many of the sectors that drive economic growth, such as construction, manufacturing and transportation/warehousing.
The public sector did most of the hiring, with jobs up in public administration, health care and education. Economists are still looking for signs that Canada's job market will hold up as low oil prices and global economic turbulence continue.
Some context for the Manpower survey: In two decades of data, Canada's net employment outlook has gone negative in only two periods: Briefly during the Great Recession in 2009, and for a prolonged period in the early 90s.
This chart shows hiring intentions fizzling in recent quarters.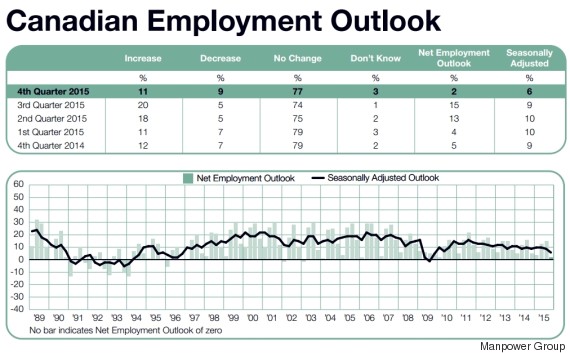 The U.S. had it much better than Canada in the early 90s, with the net employment outlook never falling below zero at all. But it was below zero for a long time during the Great Recession.
This chart shows hiring intentions in the U.S. slowly improving since the Great Recession.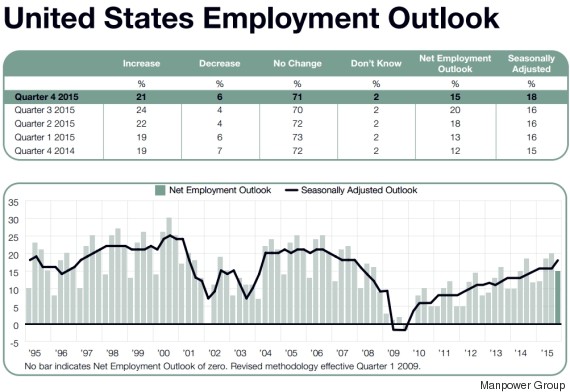 Also on HuffPost
14 High-Paying Low Stress Jobs