From the peaks of Banff National Park to the badlands of Drumheller, Albertans live in a gorgeous province with plenty to see and do. Too bad, Alberta hasn't been doing a great job lately of telling the world.
Case in point... well, here are five cases in point where Alberta has failed at promoting itself.
1. There are a number of things to do in Okotoks
Cancelling my Tuscan vacation. Headed to Okotoks for a very vague good time. pic.twitter.com/ujg6FHYd4n

— Omar Mouallem (@omar_aok) September 23, 2015
The Town of Okotoks wins at failing with their exceptionally bland slogan.
Officials intially protested that the photo above missed the full slogan — which began with "Let your summer unfold in Okotoks." But the town soon realized they might as well run with it.
What a funny meme! Share ur fun slogans to win a gift basket with 'things to do in #Okotoks'! #thingstodoinokotoks pic.twitter.com/n3iRjSu3Va

— Town of Okotoks (@townofokotoks) September 24, 2015
Dear person who wins this gift basket full of "things to do in Okotoks," let us know what they are, k?
2. Edmonton: Home of garbage and gas stations
Reality show "Amazing Race Canada" swung by Edmonton for the 11th leg of this season's race. Locations usually try to capitalize on the huge TV audience by show off their best attractions. Teams stop at places like the Humayun's Tomb in Delhi, or are challenged to tango dance in Buenos Aires.
In Edmonton, teams were asked to ... sort recycling at the glamorous Edmonton Waste Management Centre, and shop for snacks at the exotic Petro-Canada gas station in St. Albert.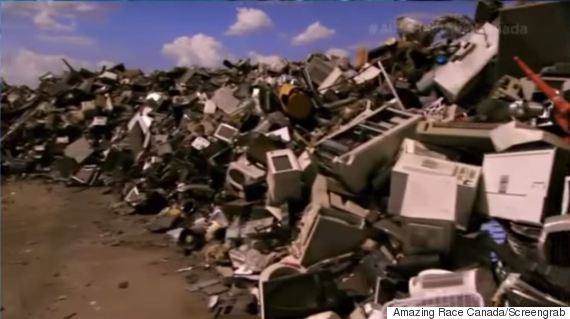 Bet you couldn't sleep thinking about visiting the Edmonton Waste Management Centre.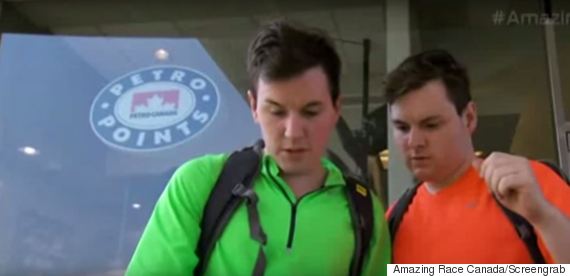 OMG, it's the Petro-Can!
But wait, there's MORE.
Edmonton showed its best hospitality to contestants as all but one of the cab drivers who were asked to wait took off, stranding the teams.
To be fair, the city's Waste Management Centre has one defender on Reddit:
3. Alberta... or Northumberland?
Alberta is a land-locked province. But that didn't stop the provincial government from trying to pass off the North Sea coastline in the U.K. as Alberta. In 2009, two tourism ads showed the image of children running on the "Alberta" beach.
"Children are a symbol of the future. They symbolize that Albertans are a worldly people," a provincial overnment spokesperson told the Telegraph.
4. Come to Calgary, enjoy our illegal activities
Calgary Economic Development's "Right Here – Calgary Destination Video" promotes a number of fun things to do in Calgary, including, in the ad's first seven seconds, slacklining. Unfortunately, slacklining carries a fine of between $100 and $1,000 under Calgary's tree protection bylaws.
The video also features skateboarders on Stephen Avenue, where, at the time of filming, it was illegal to skateboard.
5. Alberta forgets Nunavut exists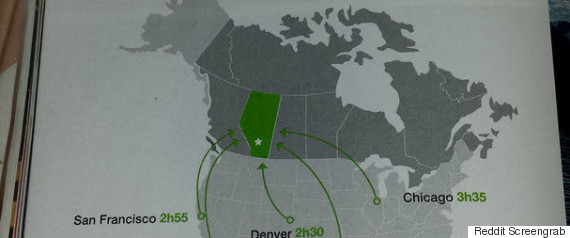 Erm, we seem to be missing a territory.

Alberta might be bad at marketing itself, but it might be even worse at promoting the rest of Canada.
In this ad from Travel Alberta, the map designer forgot to include Nunavut — making it about 16 years behind the times.
The map also shows an adrift Cape Breton Island, and a missing Ellesmere Island.
But perhaps Alberta doesn't need any kind of marketing campaign. It speaks for itself.
Like the world's largest roadside beaver.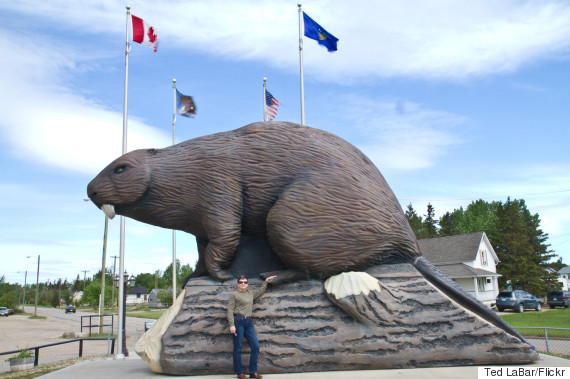 (Photo: Arthur T. LaBar/Flickr)
'Nuff said.
Also on HuffPost
Wild Alberta: Have You Been To These Odd Spots?