Justin Trudeau is doing his best to clear up the misconception that he plans to scrap income splitting for seniors.
But a slew of new Conservative ads may make the Liberal leader's task more difficult.
On Sunday, families watching NFL football got a glimpse of new televised Tory spots that blast Trudeau as "economically clueless," but make no mention of NDP Leader Thomas Mulcair. Four new ads in total have been released online.
In two of the ads, Tories mention Trudeau's plan to scrap income splitting for families — a policy that permits an eligible taxpayer with at least one child transfer up to $50,000 of income to his or her spouse and receive a non-refundable tax credit of up to $2,000 per year.
Earlier this year, the Parliamentary Budget Office projected the plan would benefit just 15 per cent of Canadian households, while costing the public coffers $2 billion per year for the next five years.
But Trudeau has been explicit that a Liberal government would not revoke pension income splitting, a popular policy that allows pensioners to allocate up to half their pension income to their spouse, resulting in big tax savings.
One new ad, called "It's decision time in Canada," slams the Liberal leader's plan to run $10 billion deficits and claw back the tax-free savings account expansion.
But when the narrator notes Trudeau will "cancel income splitting," he adds the policy is "something families and seniors rely on" — perhaps a nod to pensioners.
Another ad is less subtle. Titled "Justin will claw back your savings," images of seniors at home and shopping are shown while Trudeau's plan to cancel income splitting is referenced.
The spots both mark something of a shift from the "interview" ads that have aired on TV since the spring, in which a group of people in an office setting review Trudeau's resumé and declare him wanting.
"He said he's going to cancel income splitting for families," a woman says of the Liberal leader.
"I guess pension splitting for seniors is next," an older man replies.
But all those ads pale in comparison to one that is now seemingly impossible to find online.
In that spot, which iPolitics reported in July has been shown on BNN, CTV, and Sportsnet 360, the older gentleman from the "interview" ad looks at the camera and says Trudeau "is against income splitting for families, but without pension splitting, my wife and I would be in a bit of trouble."
Trudeau throws joke at Harper
After unveiling the full Liberal platform in Waterloo, Ont. Monday, Trudeau faced curated questions from Facebook users, including one who expressed worries about income splitting.
Trudeau said that he has told Stephen Harper directly that Liberals disagree with income splitting for families and are focused on more generous child benefits that they believe will lift "315,000 kids out of poverty."
But he reiterated that "income splitting for seniors works" and will be upheld by a Liberal government.
"Mr. Harper, even this week apparently, I just heard he put out more ads saying that I'm going after income splitting for seniors," Trudeau said. "I haven't seen the ads yet but I also think Mr. Harper probably hasn't seen those ads yet because he knows full well that I'm not going to touch income splitting for seniors.
"And if he had seen those ads before they went out he, I know, wouldn't have wanted to share an untruth with Canadians," he said, sparking laughter and applause.
On page seven of the Liberal platform, titled "A New Plan for a Strong Middle Class," Liberals make it clear they do not intend to target income splitting for seniors.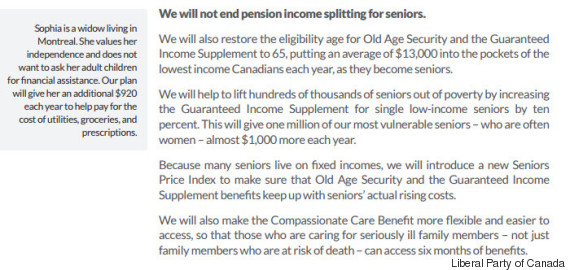 With files from The Canadian Press
Also on HuffPost
In Photos: Canada Election 2015