Back in August, when polls suggested he was in third place, Justin Trudeau kicked off his campaign with an ad that showed him walking alone in a park.
With Parliament buildings somewhere off in the distance, the Liberal leader acknowledged that Stephen Harper didn't think he was "ready."
In September, Liberals traded in the park for an escalator.
A much-discussed spot showed Trudeau attempting to walk the wrong way up the moving steps — a metaphor for the millions of Canadians he said found it "harder to get ahead" because of Harper's economic priorities.
But as summer turned to fall, the longest Canadian election campaign in 143 years became more emotionally charged. Talk of Muslim face veils, terrorism, and so-called "barbaric cultural practices" spurred on heated debate that, in the eyes of many, distracted from larger issues.
Now, with polls suggesting Liberals have momentum, the party has released a new ad that shows Trudeau on stage, surrounded by thousands of people, railing against what he called Harper's politics of "fear and division."
"Fear of the world beyond our borders. Fear of each other," Trudeau says. "He wants us to think that if it weren't for him, our economy would fall apart. The Canadian economy doesn't depend on him, it depends on you."
The speech was delivered at a rally in Brampton, Ont., last weekend — one of the most ethnically diverse cities in Canada and a key battleground in the vote-rich 905 region that may determine who wins on Oct. 19.
In front of a reported 5,000 supporters, Trudeau accused Harper of never missing an opportunity to divide Canadians.
"East against west, urban against rural, French against English, so-called old stock Canadians versus newcomers," he said at the time. "His first instinct is to appeal to the worst instincts."
The ad also features — perhaps — an allusion to late NDP leader Jack Layton's famous last words.
"We have the chance to beat fear with hope," he says. "This is Canada. And in Canada, better is always possible."
The spot ends with the word "Ready" flashing on screen.
The ads were released in English and French Saturday as voters head to advance polls that are open until Monday.
Liberals also released a 25-minute video online from the Brampton rally.
New Democrats also release message of hope
The spot showed NDP Leader Thomas Mulcair addressing supporters at rallies last weekend in six Conservative-held ridings in southwestern Ontario.
"Don't you think it's high-time we replace Stephen Harper's politics of fear and division with our politics of hope and optimism, like Jack Layton taught us?" Mulcair asks.
The ad also highlights a pretty catchy new line from the NDP leader, highlighting his priorities.
"Pharmacare, health care, child care… Mulcair," he says.
But Mulcair also touches on the potential for history if Canadians elect the first federal NDP government in Canadian history.
"We have to believe in ourselves. What we've built since the time of Tommy Douglas and Ed Broadbent and Alexa McDonough and Jack Layton," he says. "There's hope. We're going to get it done together."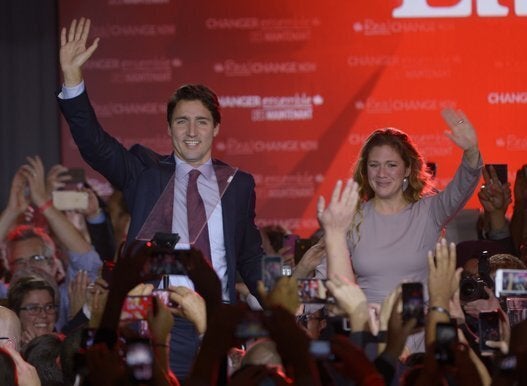 In Photos: Canada Election 2015