Harold Reynolds says he never meant to "offend anybody" Sunday after insulting Canadians, suggesting they didn't know how to catch foul balls.
The Fox Sports announcer and former baseball player says that "because not a lot of Canadians grew up playing baseball they're not used to catching balls in the stands." He made the comments during game three of the American League Division Series that Toronto won 5-1. Toronto plays Monday in a must-win game in Arlington, trailing the series 2-1.
"I didn't mean to offend anybody, I just thought it was the fun nature of the game. So sorry Canada, the whole country, if I offended anyone up there."
He then told Sportsnet that he has some baseball knowledge of the Canadian scene, citing that Blue Jays players Russell Martin and Dalton Pompey are Canadians.
But, referring to his foul bowl comment, he still thinks all we know is hockey.
"The fact that in Canada … most people grew up in Canada playing hockey."
Walker said he got more than 4,000 new followers on Twitter after his tweet.
And Reynolds felt the wrath of the Jays' Pompey, who told him, "you can't mess with us Canadians."
That's right, Reynolds. You're on notice.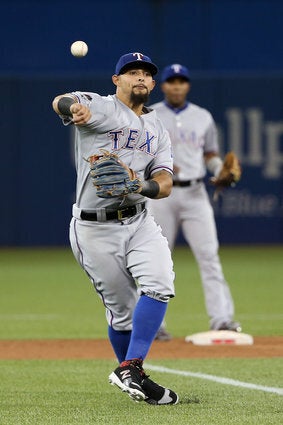 Texas Rangers v Toronto Blue Jays