Liberal Leader Justin Trudeau won't guarantee that he will spend more than one day a week answering questions in the House of Commons if he becomes prime minister.
In an interview with The Huffington Post Canada Tuesday, Trudeau rejected the notion that his absence from question period would deny rivals the chance to hold his feet to the fire, should his party form government. The Liberal leader also touched on a range of subjects, from the Trans-Pacific Partnership to right-to-die legislation, as his campaign moved through Toronto on the final week of the 78-day campaign.
"The idea that the only way to hold a government to account is to try and go after the prime minister is actually not the way our parliamentary system works," Trudeau told HuffPost's Althia Raj.
The Liberal leader was asked about his platform pledge to introduce a "prime minister's question period" — similar to the process in Britain, in which the PM spends 30 minutes answering questions from members of Parliament, including those in his or her own backbench.
Once a week, Trudeau said, the prime minister would face most, "if not all," of the questions from MPs.
"But on other days, the prime minister could certainly be there to answer in the way it is right now," he said.
Conservative Leader Stephen Harper typically attends question period three times a week, and he usually responds only to questions from party leaders.
Trudeau would not pledge to be present in the Commons at least three times a week to answer opposition questions.
"I'm not going to make commitments about staying away from Canadians," he said. "One of the things that is extremely important for prime ministers is to stay connected to the people that they're serving."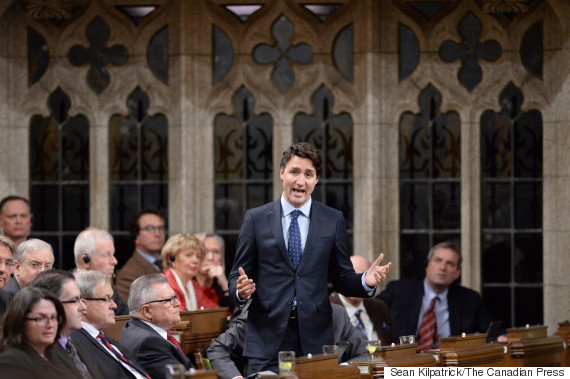 Trudeau asks a question during question period in February, 2015. (Photo: Sean Kilpatrick/CP)
He said he knows that some people believe he doesn't respect Parliament because of the amount of time he has spent away from the Commons as Liberal leader.
"The opposite is true," he said. "What happens in Parliament matters deeply to Canadians. It's just, Canadians have been turning away from it for the past years because Mr. Harper has rendered it almost meaningless in people's lives."
The Liberal leader disagreed with the suggestion that one special question period each week could spark worries that he is not "accountable and answerable" the other four days.
He said Canadians are worried about their jobs and futures, not "how question period functions."
Trudeau also pushed back at the notion that less face-time in question period conflicts with his vow to run a more accountable government.
"You think that being out there across the country, talking to Canadians and not being in front of the (Parliamentary) press gallery is being less accountable?" he asked.
While Trudeau has also pledged to be "much more open" with reporters, it's elected MPs who are ultimately tasked with holding the government to account.
Trudeau said Harper has laid a "trap" to make everyone believe the only person who matters in government is the prime minister.
He said that his cabinet would be composed of capable ministers who would take accountability for their departments, rather than serve as spokespersons for their leader.
Trudeau knows commitment to free votes will make things more difficult
Liberals have also pledged to make free votes for members of caucus standard, except in confidence matters or issues that cut to the heart of the Liberal platform or values.
Trudeau acknowledged Tuesday that such a promise would complicate matters for him as prime minister.
"The job of a prime minister is not (supposed) to be an easy job," he said. "It's a job that has to be pulling people together from all different parts of the country, with different perspectives."
He said Parliament is supposed to be about 338 voices seeking the best way to move Canada forward.
"We've gone a long way from that," he said. "It's time we got back to that."
Trudeau scoffed at the notion that he may have an "authoritarian streak," as exemplified by his decision to boot Liberal senators from his caucus and his stunning welcome of controversial former Conservative MP Eve Adams into the Liberal fold.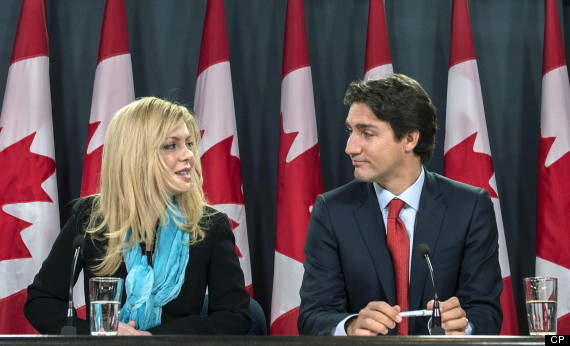 Eve Adams is joined by Trudeau at a February, 2015, press conference announcing she is crossing the floor. (Photo: Justin Tang/CP)
Trudeau said he had "significant consultation" with his caucus leadership on the Senate decision, although the news came as a shock to the long-time Liberal members of the upper chamber.
"I've always been collaborative in my decision-making, and I listen to a wide range of opinions and views from experts and colleagues," he said. "And then I make the decision."
Trudeau told HuffPost he did not regret his press conference with Adams, who crossed the floor to the Grits last February in a move that surprised several party stalwarts, some of whom questioned the leader's judgment.
"This election is going to be about convincing a number of people, who voted for other parties than the Liberals in the last election, to actually take a look at us and realize that we have the best plan," he said. "I don't think that being overly exclusionary, for a party that is looking at bringing people together, (is) an approach that we should take."
Not much of a personal relationship with Mulcair
With polls pointing to a possible minority Parliament, Trudeau is signalling that he would be able to work with NDP Leader Thomas Mulcair.
Although he said Mulcair put forward a vision that doesn't respond to what Canadians want and "made the wrong choice" by committing to balanced budgets, Trudeau said Liberals have always worked with other parties in minority situations.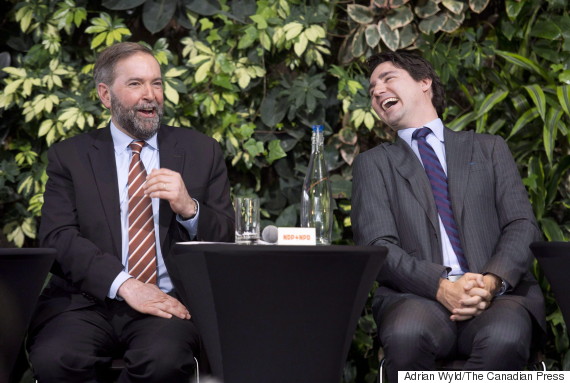 Trudeau and Mulcair share a laugh during a panel discussion on youth voting in March, 2014. (Photo: Adrian Wyld/CP)
When asked about the perception that the two leaders don't get along at a personal level, Trudeau conceded that he doesn't know Mulcair well.
"I've never actually had many conversations with him beyond social niceties," he said. "But I know that people who care about this country and want to build a better future for Canadians should always be able to work together."
Trudeau suggested he is not surprised by the way the campaign has unfolded. For three years, he said, Liberals have "stayed consistent" with a message on growing the economy to help the middle class.
It's a message that has brought him to the cusp of forming government.
But does the leader who was dubbed "in over his head" and "not ready" feel he was underestimated?
"I don't spend a lot of time thinking about what my opponents think about me — good or bad," he said. "I focus on the job that I have to do."
Trudeau said he has gotten used to being attacked at a personal level for things that are "completely unrelated" to what he's actually all about.
"I'll let my opponents focus on me," he said. "I'm going to stay focused on the things that actually matter in this job."
***
Other key moments from Trudeau's interview with HuffPost:
On Elizabeth May's statement that Harper has fanned "the flames of xenophobia"…
"I think Mr. Harper has figured out over the years that the politics of fear and division and micro-targeting and setting communities against communities, and Canadians against Canadians, can be an effective way of getting votes. That's the way politics can work in the 21st century. But we also know — or I've decided — that doing that actually weakens your capacity to govern and to pull Canadians together."
"I think Mr. Harper is focused on politics. He's focused on gaining and maintaining power above all else. I don't think that gaining votes is ever worth pitting Canadians against Canadians."
On Canada's decision to vote against the raising of the Palestinian flag at the United Nations…
Watch his response below:
&nbsp
On the sale of Canadian military equipment to Saudi Arabia, a country with clear human rights violations…
"We have committed to being much more open and transparent than this government has… . We [currently] have a government that has always chosen secrecy and obfuscation instead of openness and transparency."
On whether anti-abortion Liberal incumbents running for re-election would be considered for cabinet…
Watch his response below:
&nbsp
On the Tories' pledge for "life means life" legislation to deny parole for the most "heinous" criminals…
"I think we already have a situation where there are people — whether it's Clifford Olson, who died in prison, or the Moncton shooter, I won't use his name, or any of the heinous crimes committed in Canada — we know that there are people who are going to spend the rest of their lives in jail and die in prison. And that's right."
"We already have tools that allow that to happen."
On whether he'd ask the Supreme Court for an extension to craft right-to-die legislation…
"We're going to look at what the results of the consultation that the government did undertake. (Liberals) asked, when the Supreme Court came down with its decision, to immediately launch a consultative process. This government dragged its heels, ran it late, but they have done something.
"We're going to take a look at what comes out of that, we're going to lean on other models, and we'll see what we have to do.
"But the Liberal Party is very clear — we support the Supreme Court decision. I think it's important in society to both respect the people's rights and freedoms and protect our most vulnerable, and I think we can do those both together."
On his personal views on doctor-assisted suicide…
"My personal opinion is that's a very sensitive question that should be decided by individuals in question."
On whether he'd bring back Katimavik, a charity for young Canadians that he headed for four years…
(Reader-submitted question from Murray Kgm)
"In our platform we've put forward $25 million a year for youth service programs that will give young people opportunities to build a better Canada, one community at a time."
On why he lauded the Canada-European Union trade agreement without having read it but won't do the same for the Trans-Pacific Partnership…
Watch his response below:
&nbsp
On whether he'd institute a "Buy Canadian" policy for his infrastructure plan…
(Reader-submitted question from Susan DeSandoli)
"We always have to ensure that we're giving opportunities to Canadian firms to contribute. In government procurement strategy. For example, we should do a lot more about looking at high-qualified and encouraging Canadian start-ups and Canadian firms. But we need to do that in a way that is respectful of taxpayer dollars, and getting that balance right is something the Liberal Party is committed to."
On why he thinks it's important to provide foreign aid when there's still poverty in Canada…
(Reader-submitted question from Brandon Hawley)
"Because Canada has an important role to play in the world, going after poverty, reducing poverty. Being a positive actor, constructive actor on the world stage … allows for greater peace, greater opportunity. And a more livable planet when everybody has a real and fair chance to succeed."
On whether Canada should build more refineries instead of pipelines…
(Reader-submitted question from Krys Scargo Armstrong)
"Canada needs an energy strategy that listens to the provinces, that engages with them on everything from electricity to oil to ensure we're making the best of our resources and investing in the kind of future that moves beyond fossil fuels."
"I don't think governments should be dictating to the private sector what is or is not in our best interest. I'm looking for opportunities to create high-quality jobs, develop our resources in responsible ways. I do believe in market forces on that."
On how he defines the middle class…
(Reader-submitted question from Tabitha McDow)
"There's lots of different ways to define it, depending on which city you're in or not. We've chosen to lower taxes on the tax bracket from $45,000 to $90,000. We've chosen to raise taxes on the wealthiest one per cent over $200,000."
"We're giving more generous Canada Child Benefits to families making less than $150,000. These are the things that we're pulling together to respond to the very needs of the middle class that is currently under threat and that needs support from the government."
The Huffington Post Canada also requested interviews with Conservative Leader Stephen Harper and NDP Leader Thomas Mulcair, but they declined. Green Party Leader Elizabeth May sat down with HuffPost last Friday.
Also on HuffPost