A new federal NDP ad in the dying hours of the campaign makes the claim that the party needs just 35 more seats to form government, despite the fact that the seat count for all parties currently sits at zero.
For weeks now, New Democrats have made the argument that they are better positioned to defeat Stephen Harper's Conservatives because of the results of the 2011 election. Justin Trudeau's Liberals, they maintain, need at least 100 more seats across the country to pull off the feat.
But that argument doesn't account for the fact that all 338 seats across Canada are currently up for grabs.
The NDP under Jack Layton won 103 seats four years ago. When Parliament was dissolved in August, the NDP sat at 95 seats. The Conservatives held 159 and the Liberals had 36 seats.
Despite all that, New Democrats released a spot online Saturday promoting the "35 more seats" argument.
The video, tweeted by NDP Leader Thomas Mulcair, also makes the claim that the NDP is better positioned to beat Tories in Ontario, again because of 2011 results. The party has consistently polled in third place in that province, even when it appeared the front-runner to win months ago.
The ad comes on the heels of a graphic shared on the party's Facebook page and several radio ads that have pushed the same narrative.
NDP incumbent Peggy Nash, running again in the Toronto riding of Parkdale-High Park, also referenced the need for "only 35 seats more" in a tweet last weekend.
Mulcair was asked at an event last week why he only wants 35 more seats from Canadians.
"Well, I'll take more than that," he said with a chuckle. "But I only need 35 more to defeat Stephen Harper."
It's a position that has been dubbed misleading and presumptuous.
Earlier this month, NDP senior campaign adviser Brad Lavigne took to Facebook with a video aimed at so-called change voters who may be considering voting Liberal.
"Our path to victory is much simpler," he said. "In 2011, the NDP won 103 seats, and today Tom Mulcair needs just 35 more seats to defeat Stephen Harper."
Liberal spokeswoman Kate Purchase told The Huffington Post Canada that the ploy was "arrogant."
"Brad and the Mulcair team are taking all the people who voted for Jack Layton for granted," she said.
"It's not just that the message is flagrantly disingenuous, which it is, or that it ignores nearly every recent poll showing the NDP being squeezed out of the race between the Liberals and the Conservatives, which it does, but that it assumes that Canadians are dumb enough to actually buy it and throw their support behind the NDP as a result," she wrote.
Canadians head to the polls on Oct. 19.
With a file from Althia Raj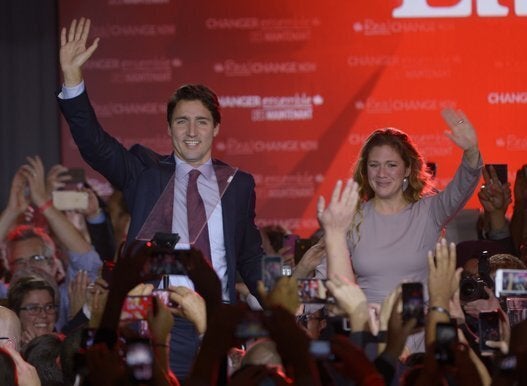 In Photos: Canada Election 2015