Halloween is just around the corner, which means it's crunch time to find a costume.
If you're headed out for a spooky night on the town with your girls, why not master the art of the group costume together? After all, 2015 is the year of the squad (thanks, Taylor Swift), and Halloween 2015 is the perfect opportunity to ignite some serious #squadgoals with your killer costumes.
Literally the squad to put the term "squad goals" on the map, Taylor Swift and the likes of Karlie Kloss, Selena Gomez, Gigi Hadid and nearly everyone else in Hollywood, make up for one massive friendship group. For this costume, grab a few killer dresses and some good bronzer.
If you're feeling a little bit badass, try donning the "Bad Blood" music video squad costume. Difference? For this version, you'll need a lot of leather, a lot of black eyeliner and a whole lot of girl power. Get ready to kick some major butt on Halloween!
It's time for you and your gals to join #BALMAINATION. Get dazzled up on Halloween night and walk those eerie streets like they're the runways of Paris. You'll need the some fabulous blowouts, glitzy dress and low-plunging black blazers to become the next Gigi or Kendall.
Sporty, Baby, Posh, Ginger and Scary -- they're the girls who brought you girl power. Transform into the Spice Girls this Halloween with track suits, black slip dresses and the icon British flag dress. It's time to zig-a-zig-ah!
If you have a group of five heading out for the night, this might be too sensitive of a costume for you (you'll need a make a pre- or post-Zayn Malik decision). Conquer the boys' style with some great hair, loads of interesting tattoos and some fine British (and Irish) accents.
Halloween 2015 wouldn't be complete without the Kardashian-Jenner clan's arrival at some house party. Channel Kim, Kourtney, Khloe, Kendall, Kylie and even Kris with some major contouring, some great lip liner and that iconic silky dark hair.
Grab one Adam Levine, one Blake Shelton, one Gwen Stefani and one Pharrell (and one Carson Daly, if needed) and you got "The Voice" judges costume covered. If you can find four red big chairs to drag along with you, then you win.
Just let it go and give in to the "Frozen" trend. Become the enchanting Elsa, Anna and Olaf this Halloween with Disney-inspired dresses and tiaras.
With the newly released trailer, the "Star Wars" hype is alive and well. Han Solo, Princess Leia and Luke Skywalker are all Halloween favourites that will be clear winners this year. May the force be with you.
Grab your invisibility cloak, wand and Tom Riddle's diary and get ready to create Hogwarts' main squad. From Harry to Ron, Hermione to Ginny, these wizards are a classic Halloween costume that just never gets old.
Prepare yourself, Halloween is coming. Find yourself a Daenerys Targaryen and Jon Snow and get ready to trick or treat.
Male (the dudes from the 1984 film) or female (the chicks from the upcoming 2016 film), the Ghostbuster gang is ready to answer calls on Halloween. What you'll need to conquer the look is a grungy jumpsuit and some massive rubber boots. Don't forget your proton pack to capture those ghosts.
ICONIC. The Sailors were the original squad taking over television with their magical powers and charming school girl looks. You'll need Sailor Venus, Mercury, Mars and Jupiter reporting for duty. Oh, and you have a male in the group? Tuxedo Mask.
What better way to celebrate Halloween than to become the witches from one of the scariest shows on television? Get the look with black maxi dresses, black boots and big pair of chic sunglasses.
Probably the most relevant squad costume of all for Halloween (or Chanel-o-ween) this year is the ladies from "Scream Queens." Channel your inner Chanels with a pastel hues, lots of faux fur and a whole lot of 'tude.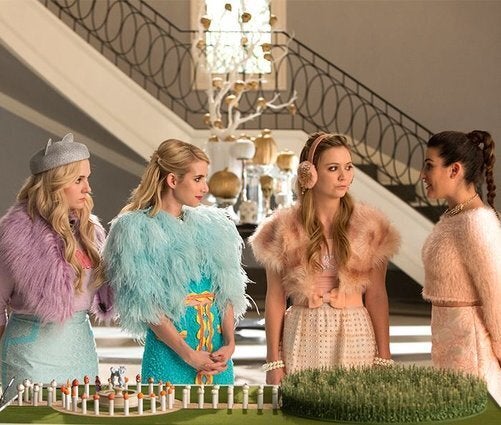 TV Halloween Costume Ideas