Halloween has a wonderful complexity to it. It can be tons of fun with hilarious, topical costumes, or it can be downright scary. Last week, we featured a fun Halloween nail art design, so now it's time for the blood and gore.
This zombie nail art design is very easy to create and will definitely draw a lot of attention to your digits. Also, if you are dressing up as a zombie, this certainly completes your costume!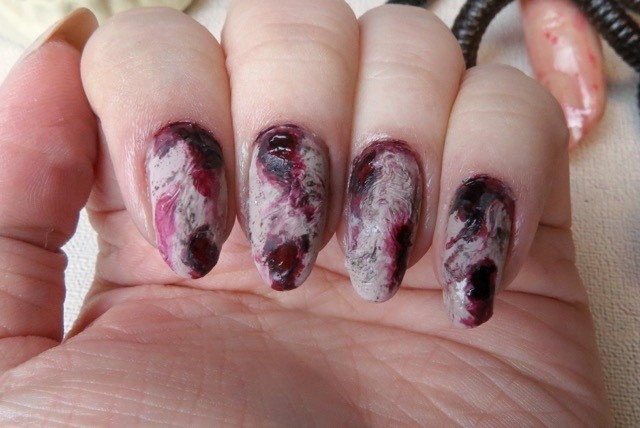 There are a few key items that you will need in order to complete this look (in addition to a strong stomach): a flesh-toned polish, polishes for the blood, and both a quick drying topcoat (Seche Vite works best for this technique) and a matte topcoat.
First, apply two thick coats of the flesh-toned polish (you can either go for live looking flesh, rotting undead flesh, or green flesh) and allow to dry for one to two minutes.
Then apply the quick drying top coat and allow to dry for one to two minutes, or until the polish feels dry on the surface but hasn't completely dried all of the layers of polish. Before the topcoat completely dries, take your finger and start pushing the polish up or down to create the holes and creases. Once you are happy with the creasing, allow this to completely dry.
Now the fun part – the blood! On a piece of aluminium foil or plastic sandwich bag, put a few drops of red, brown, green and black polishes. The brown, green and black polishes make the design look more realistic. Mix these polishes until you achieve the blood colour you want. Now, dip a nail art brush into the blood polish and apply it to the creases you created. Bring the blood colour onto the flesh colour as well to make the holes look like they are actually bleeding.
To diffuse some of the colour on the flesh, take your finger or a sponge and blend the colour in a bit. Keep layering the blood colour until you achieve a look you are happy with. It is best to place some brown or black in the centre of the crease to add dimension.
Allow the blood to dry, and then apply the matte topcoat. This gives the flesh a more realistic appearance. To get back the wet look of the blood, take the mixed polish colour and apply it sparingly to the holes.
The great thing about a nail art design like this is that imperfections look better, so you don't have worry about messing anything up!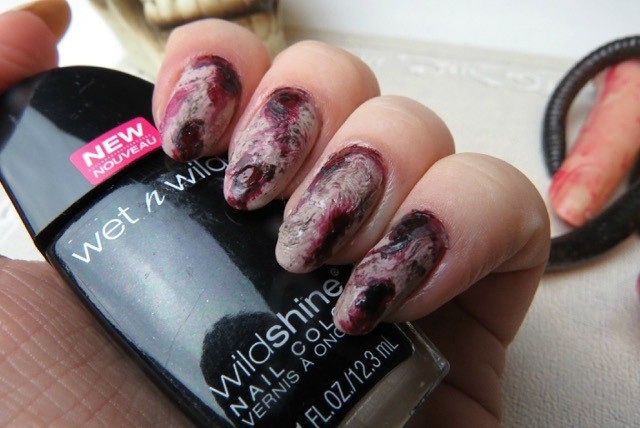 Polishes Used: NYC Flat Iron Green, Wet n Wild Black Crème, China Glaze Community, Revlon Checkmate, NYC Lincoln Center, and Julep Anisa.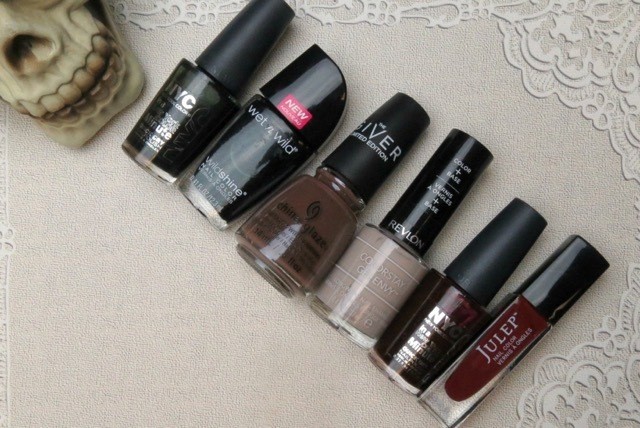 Kaitlyn Delano is a beauty blogger based in Toronto. You can find all of her Mani Monday designs on her blog, Kaitlyn Elisabeth Beauty.
Follow Huffington Post Canada Style on Pinterest, Facebook and Twitter!
Also on HuffPost
Totally Teriffying Halloween Nail Art Ideas