After six months off the job, Shawn Simoes has been rehired by Hydro One.
Daffyd Roderick, the director of corporate affairs for Hydro One, said in an official statement to The Huffington Post Canada, "There is an arbitration process in place. Hydro One made its views very clear. This matter was resolved through the arbitration process. We will not comment any further on the matter." When pressed further, Roderick clarified that "its views" meant Hydro One's original decision to terminate Simoes.
Simoes had sent an apology letter to Hunt after the incident in a move one lawyer called strategic.
"A lack of remorse is one of the most important factors in whether or not an arbitrator will reinstate," Levitt said. "If there is no remorse, they generally won't reinstate. If there is remorse for an act of misconduct, reinstatement is a possibility ... so he has to show remorse," Howard Levitt, of Levitt-Grosman LLP, told the Toronto Sun.
Hunt responded quickly on social media when the news was revealed today, explaining she knew this was coming:
The firing was controversial at the time, with some saying employees should not be reprimanded for what they do with their personal time, and others noting that when you're associated with a company, your behaviour both on and off the job matters.
In the wake of today's revelation, people were similarly divided:
Tracey Henry, a lawyer with Cavalluzzo Shilton McIntyre Cornish, who acted for the Society of Energy Professionals, of which Simoes is a member, says from the union's perspective, the arbitration decision was fair and reasonable in all of the circumstances of this case.
"Mr. Simoes recognizes that his conduct was inappropriate, and he was deeply remorseful for what happened," she tells The Huffington Post Canada.
The steps that he took to made amends for the incident included the aforementioned apology to Hunt, a donation to the White Ribbon Campaign, and on his own accord, attending sensitivity training.
According to Henry, the union received emails from close to 40 co-workers, both male and female, that were "overwhelmingly positive."
"Others who had a different view certainly could have come forward, and we weren't aware of anyone," says Henry. "And you have to remember, it was off-duty conduct. He wasn't in the workplace, he has absolutely no history of any inappropriate conduct towards his co-workers."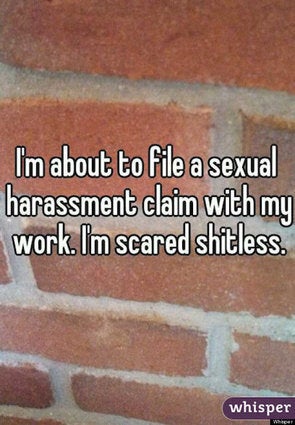 Women Who Reported Sexual Harassment