GEOFF ROBINS via Getty Images
Prime Minister Justin Trudeau has received the paper doll treatment by New York Magazine.
Originally appearing in the magazine's November 2, 2015 issue, the illustration features a nude Trudeau (with a strategically-placed maple leaf) surrounded by various clothing items which he may or may not actually own, including a Gap sweater, H&M Superman boxers and a Canada Goose jacket (different than the version he wore on Halloween). An interactive version was posted on the magazine's website today.
.@JustinTrudeau paper doll cut out via @NYMag 🙈🇨🇦 pic.twitter.com/yyUEuUD9D5

— Jeevan Brar (@JeevanBrar) November 5, 2015
"Drag and drop the items below to play dress-up with Canada's foxy new Prime Minister, who is more than just a great head of hair," the site instructs.
Of course, there are mixed reviews on the Tru-doll on Twitter. While some find humour in the idea, others are offended.
OK, this just seems wrong on so many levels & not just b/c he's PM: https://t.co/E0y0qZmACp

— Dawn Severenuk (@DawnSev) November 5, 2015
OH COME ON https://t.co/CFJdKsuHnI

— Rebecca Tucker (@RebeccaTee) November 5, 2015
Basically half the office is playing with @TheCut's Trudeau paper doll. I like the shorts: https://t.co/UMDUehs8CV pic.twitter.com/bRexrA2DFC

— Carley Fortune (@CarleyFortune) November 5, 2015
This is why I love #digital: Say bonjour to the @JustinTrudeau Paper Doll. Brilliant. https://t.co/PmXZd01cX9 via @TheCut

— Emma Yardley (@byemmayardley) November 5, 2015
Is this real life? So wrong but so good: Say Bonjour to This Justin Trudeau Paper Doll https://t.co/KzMOO3BAj0 @TheCut

— Deepika Shewaramani (@DeepiShewara) November 5, 2015
The Justin Trudeau Paper Doll is really not helping me stick to my resolution to stop objectifying him:

https://t.co/ooEXTeO0a6 via @TheCut

— Faye Delacour (@FayeDelacour) November 5, 2015
Yes, I agree, Justin Trudeau is hot. But turning a world leader into a paper doll? With a strategically placed maple leaf? Not cool, @NYMag

— kris fletcher (@krisfletcher) November 3, 2015
We just wish the "clothes" actually fit.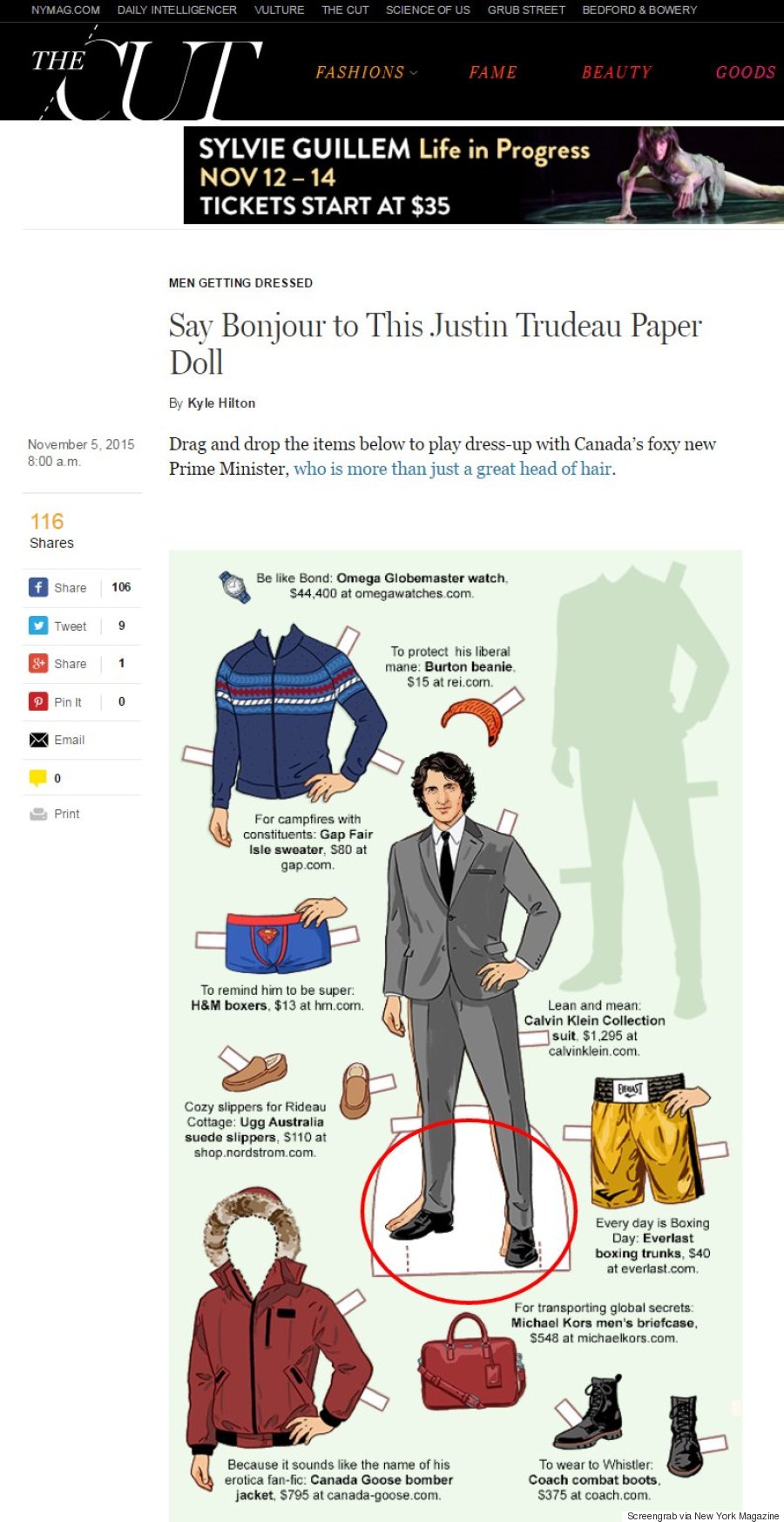 Follow Huffington Post Canada Style on Pinterest, Facebook and Twitter!
ALSO ON HUFFPOST:
Photo gallery

Justin Trudeau Swearing-In Day

See Gallery