If you've ever wanted to cook beets, but didn't know how or thought it was too much work, think again. Beets are versatile, have many health benefits, and can be cooked in a variety of ways. They can even be eaten raw!
Beets also come in many different colours from deep red, to bright gold, to striped red and white like a candy cane. Red beets are the most popular variety with their sweet and earthy flavours, and are available at most grocery stores. Golden beets are less sweet, but add a nice bright colour to dishes. They can be more challenging to find — a great place to look would be your local farmers market.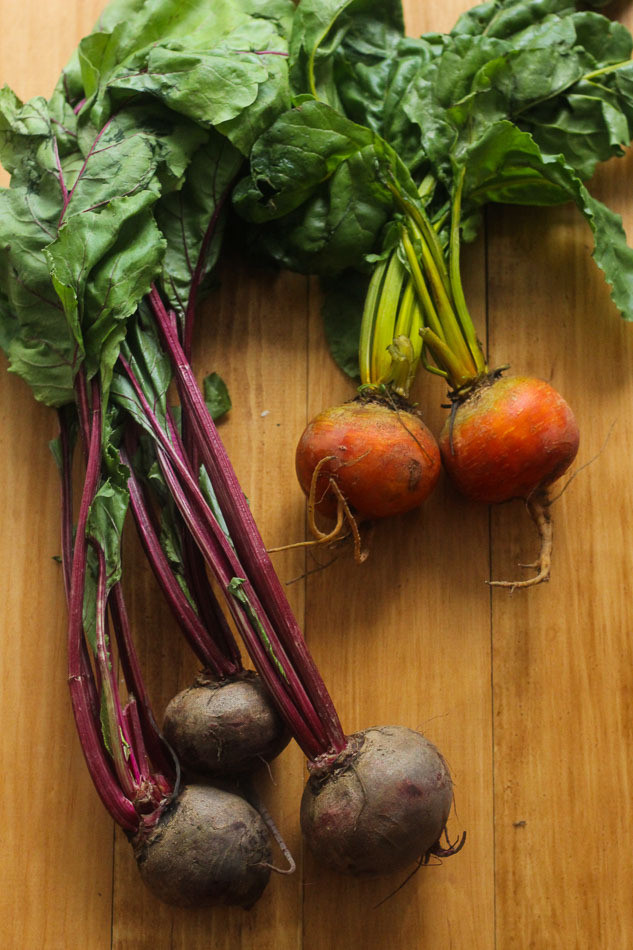 When choosing beets, make sure they are firm, with smooth dry skin and crisp leafy greens. There should be no soft or dark spots. The leafy greens should be eaten the same day the beets are purchased, and can be used raw in a salad, sautéed or even lightly steamed. Otherwise, beets are great storage vegetables, and can last for up to three weeks in the refrigerator.
Beets can be enjoyed juiced, boiled or grilled; however, the easiest way to cook beets is to roast them. Roasting beets intensifies their flavour and brings out their sweetness. Plus, roasted beets will keep for up to a week! We made an oven-roasted beet salad with goat cheese and a simple balsamic vinaigrette. The beets' sweetness and the goat cheese's bitterness make the perfect combination.
Roasted Beet Salad & Simple Balsamic Vinaigrette Dressing
Roasted Beets
3 red beets
2 yellow beets
1 tbsp olive oil
1 tbsp salt
1 tbsp pepper
2 tbsp goat cheese
Balsamic Vinaigrette
3 tbsp balsamic vinegar
2 tsp Dijon mustard
1 tsp garlic chopped
1/3 cup olive oil
1 tsp salt
1 tsp pepper
Instructions
Preheat oven to 400°F.
Peel beets, and then cut into halves and then cubes, and place in a mixing bowl.
Add olive oil, salt and pepper and mix together to coat beets.
Line two baking sheets with parchment paper, and then place red beets on one sheet and yellow beets on the other.

Bake yellow beets for 20 minutes and red beets for 25 minutes
While beets are baking, mix ingredients for the balsamic vinaigrette in a measuring cup
Place three to four leafy greens from the beets onto each bowl, and then place red and yellow beets on top. Garnish with a sprinkling of goat cheese and vinaigrette dressing, and enjoy!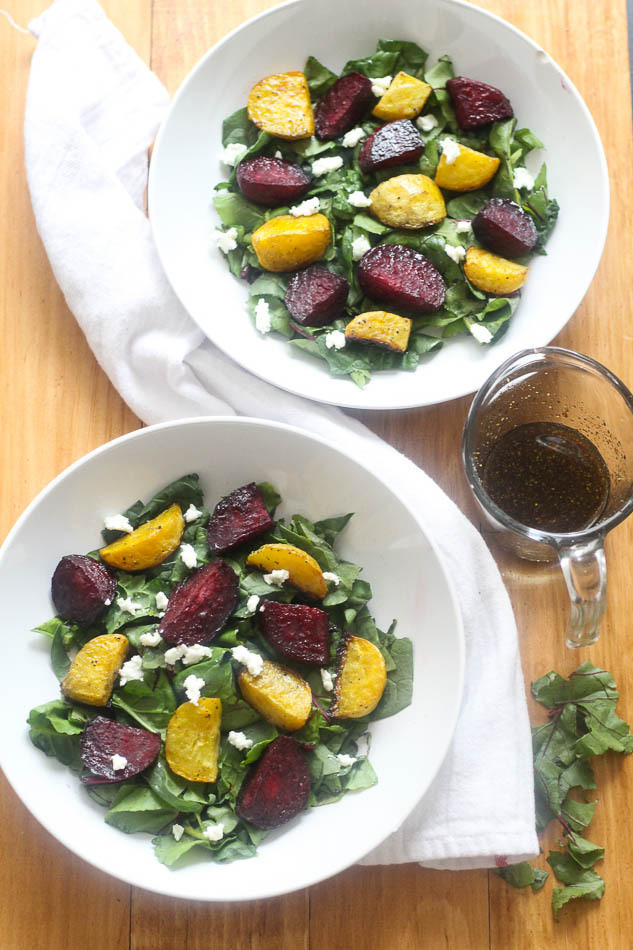 Also on HuffPost
Photo gallery
Health Benefits Of Beets
See Gallery