If you're still recovering from the news that flower beards were a thing, you might want to sit down for this one...
First, let these men show you how it's done:
Proven: all that glitters is gold.
Now are you thinking to yourself, "Hey, I wouldn't mind rocking a glitter beard to my office Christmas party"?
To begin the process, you'll need two key weapons to achieve the look: beard oil and of course, glitter.
Start by soaking your beard in a lush beard oil (this will allow the glitter to stick onto something). Then, get ready for a mess that will probably take you six months to clean up: drowning your beard in a million tiny bedazzling sparkles.
So if your girl is flaunting some spiffy new glitter roots this holiday season, go ahead and match her with your new, shimmering glitter beard.
Warning: may be messy to kiss someone under the mistletoe with.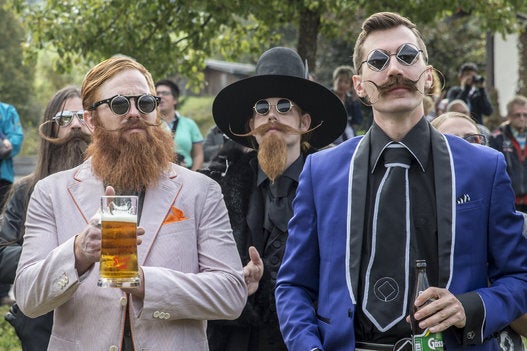 World Beard And Moustache Championships 2015