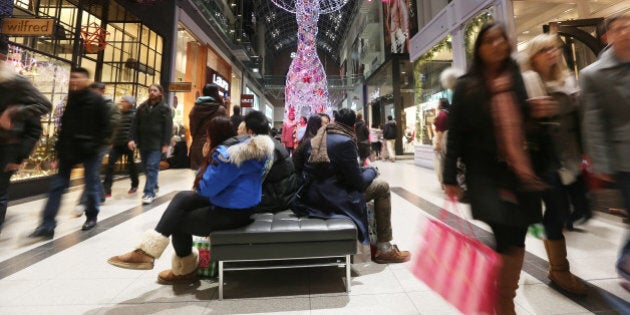 It's the most wonderful day of the year for Canadian retailers.
And it's not Black Friday or Boxing Day.
No, the busiest shopping day of the year in Canada is Dec. 23, according to the Interac Association.
And while Wednesday isn't expected to see huge sales spikes over last year, the day before Christmas Eve is nevertheless shaping up to be 2015's most hectic in stores, debit transaction data suggests.
The reason for it is simple: it's the last chance consumers have to buy the items they need for the holidays, from stocking stuffers to food and booze for Christmas dinner, Interac Association's Teri Murphy told The Huffington Post Canada.
"Historically, we've seen a trend year over year, at least for the past five or more years," she said about the Dec. 23 trend.
Last year, debit purchases on Dec. 23 eclipsed those on Dec. 26, with almost $1 billion spent on the former. Boxing Day debit purchases totaled just over half a billion.
Much of the sales activity is concentrated in three places: grocery stores, fast food outlets and discount retailers.
Canadians spent almost $200 million on debit in grocery stores and supermarkets, while another $87 million was spent in discount stores on Dec. 23 alone last year.
There are signs Dec. 23 is starting to see competition from Black Friday for the title of busiest shopping day.
Canadian Black Friday who made debit transactions racked up $959,676,076 in purchases — almost as much as what Canadian Interac customers spent the day before Christmas Eve in 2014.
But this year, holiday sales activity suggests there won't be a major increase in the debit transactions consumers make.
The Interac Association's findings are, so far, consistent with that trend. Total debit transactions for last weekend, the final one before Christmas, only went up by 0.7 per cent compared to last year.
Some parts of Canada saw drops in debit activity, including Alberta (-3.5 per cent), Newfoundland and Labrador (-5.6 per cent) and the Northwest Territories (-14 per cent).
But it's "nothing drastic," Murphy said, and it suggests that people are "being more conservative in what they're shopping for."
Here are some charts that show how debit customers' holiday shopping trends between 2013 and 2014: