Conservatives are amplifying a retired major-general's remarks that Canada's international influence could be diminished if the Liberal government ends the bombing mission against the so-called Islamic State.
The Globe and Mail's Robert Fife revealed Thursday that Prime Minister Justin Trudeau's cabinet is reviewing at least six options when it comes to the ISIS mission — and not one involves continuing airstrikes.
Trudeau repeatedly pledged during the federal election campaign to end the bombing mission and shift the focus to enhanced training of Kurdish Peshmerga forces on the ground. He has held fast to that commitment even after the November attacks in Paris ramped up pressure on him to reconsider.
Retired major-general David Fraser, who commanded troops in Afghanistan, told The Globe that pulling out CF-18s will irk Western allies, including the United States.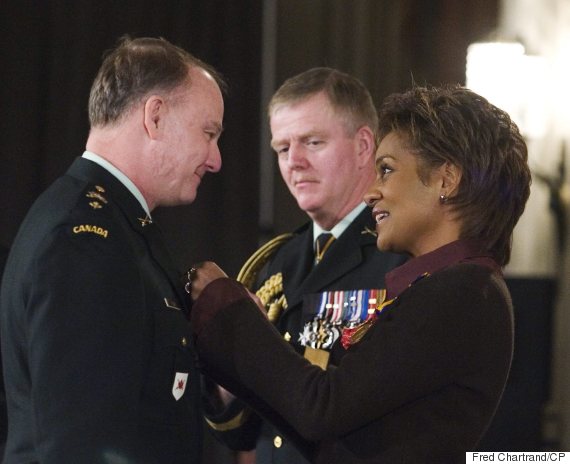 Retired major-general David Fraser receives the Meritorious Service Cross from Governor General Michaelle Jean in 2007. (Photo: Fred Chartrand/CP)
"If we don't have our fighter jets, we are not going to have much of a voice," he told the paper. "We won't get much recognition. Strategically, at the political level, we are going to lose here."
Tory defence critic James Bezan highlighted Fraser's comments in a media release Thursday and urged the Liberal government to scrap its "ill-advised" promise.
"We can of course support further humanitarian assistance and a larger training mission beyond the 69 members of the Special Operation Forces," Bezan said. "But for the past year, Canadians have done this work at the very same time that we have carried out airstrikes to degrade ISIS capabilities in the region.
"The government has made no coherent case for why this shouldn't continue."
One of the options referenced in The Globe story involves training Iraqi troops in Jordan, seemingly to prevent firefights on the ground. Fraser suggested while that move would make political sense for Liberals, it would not be welcomed by Iraqis and Kurds.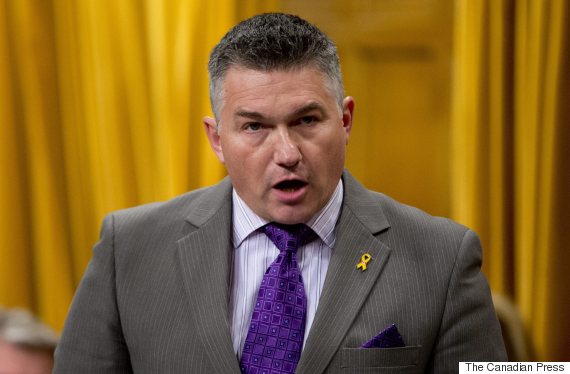 Conservative defence critic James Bezan speaks in the House of Commons. (Photo: CP)
Rookie Tory MP Pierre Paul-Hus, an associate defence critic and veteran, said in the release that Canadian trainers should be working closely with allies on what helps them, not what "works best politically for the Liberal Party."
"We have the capability to help where it's needed most against a brutal enemy, and we should remain absolutely committed to doing so," Paul-Hus said.
"The government has made no coherent case for why this shouldn't continue."
Last month, Canadian commandos in Iraq supported Kurdish Peshmerga fighters in a 17-hour battle against ISIS on the ground. Later, during a briefing in Ottawa, Maj.-Gen. Charles Lamarre said two CF-18s eliminated an ISIS fighting position near the occupied city of Mosul.
Bezan and Conservative foreign affairs critic Tony Clement released a statement arguing the events underscore why Canada's jets have to stay in the fight.
Bezan also criticized Defence Minister Harjit Sajjan for not directly mentioning CF-18 pilots or the Royal Canadian Air Force in his initial statement on the incident.
"It appears to be too much for the Liberals to even thank our fighter jet pilots for a job well done," Bezan said.
Former defence minister Jason Kenney has similarly hinted the Liberals are not showing enough respect for the contributions of the Royal Canadian Air Force.
After Foreign Affairs Minister Stephane Dion congratulated the Iraqi government last month on the liberation of Ramadi, Kenney took to Twitter to question why the minister's statement did not mention the RCAF.
Why does Mr. Dion's statement on the liberation of Ramadi fail to mention the contribution made by RCAF airstrikes? https://t.co/C45PJdGmvr

— Jason Kenney (@jkenney) December 30, 2015
By ending our combat operations against ISIS? https://t.co/TQVZ8VC0mz

— Jason Kenney (@jkenney) December 30, 2015
The Hill Times reported Wednesday that Canadian jets have conducted at least three airstrikes against four ISIS targets since Jan. 2.
Trudeau: Allies understand, support change
Liberals, however, maintain that changing the ISIS mission will not hamper relations with the U.S. or other allies.
When interim Tory Leader Rona Ambrose pressed Trudeau on the matter during question period in December, the prime minister said Canada continues to be involved in the fight in a "robust" manner.
"Not only are our allies understanding of that, they are supportive of that," he said. "In fact, for the first time in almost 20 years, the White House will be hosting a Canadian prime minister for a state dinner. That is the kind of good relationship we are building with our allies."
Trudeau and his wife will break bread with the Obamas on March 10. The last prime minister to be invited to the White House for such an occasion was Jean Chrétien, who dined with Bill Clinton in 1997.
With files from The Canadian Press
ALSO ON HUFFPOST: