Lawsuit used to campaign against Trans-Pacific Partnership
Free-trade tribunals becoming a global controversy
Canada is most-sued country under NAFTA
TransCanada's decision to sue the Obama administration over the rejection of the Keystone XL pipeline has given new ammunition to opponents of free trade deals, who argue the NAFTA suit is proof these agreements undermine nations' ability to set their own policies, and are a threat to climate initiatives.
The lawsuit "is going to remind Americans how much of our sovereignty these treaties give away," said Bill McKibben, co-founder of 350.org and a leading campaigner against the Keystone XL pipeline.
"The oil industry is so used to always winning that I fear this kind of tantrum is predictable. Corporate power is truly out of control."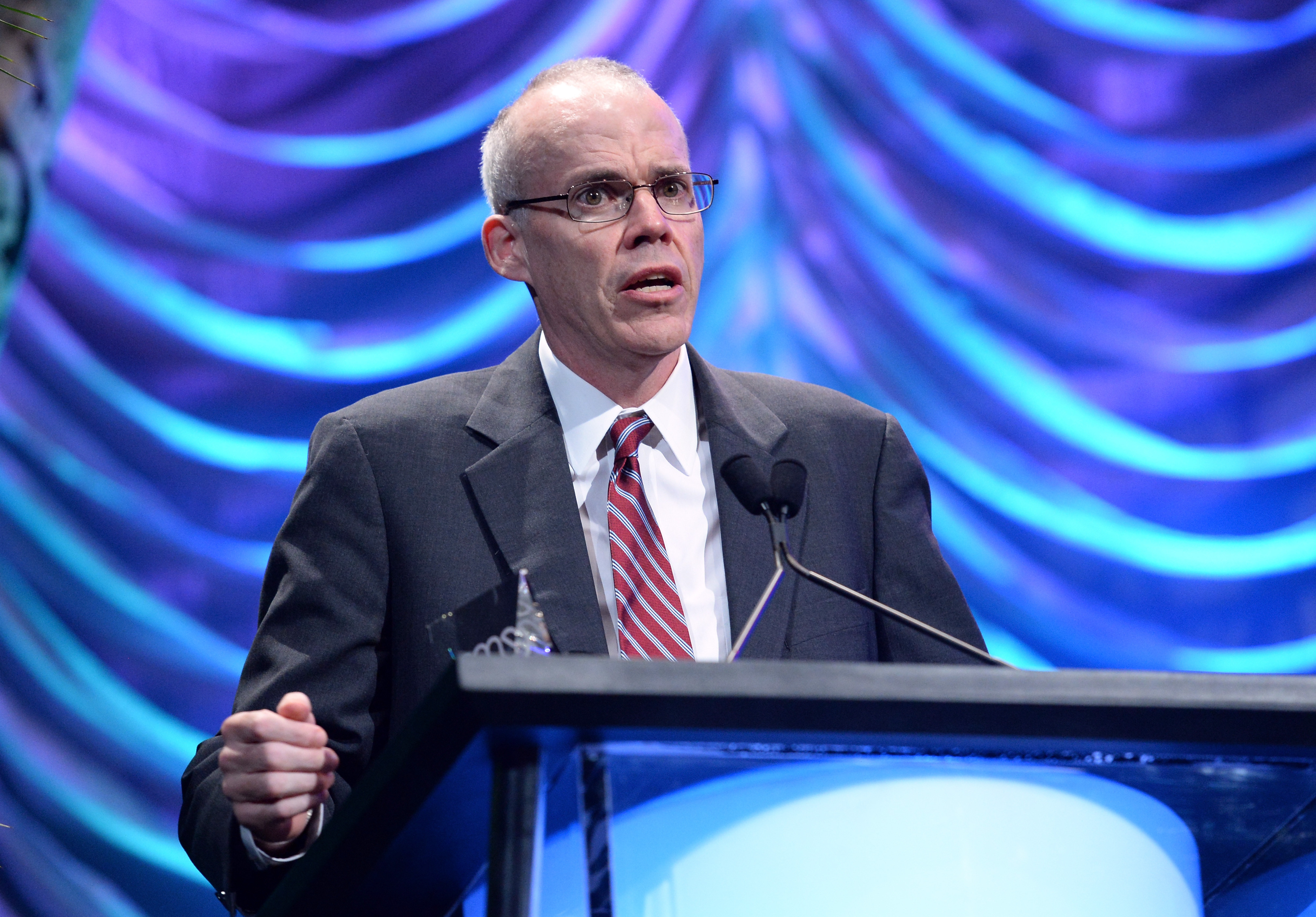 350.org co-founder Bill McKibben calls TransCanada's lawsuit over the Keystone XL pipeline a "tantrum." (Getty Images)
Calgary-based TransCanada announced earlier this week it is suing the Obama administration for US$15 billion over the White House's rejection of the Keystone XL pipeline. That's roughly twice the estimated cost of the project.
It's filing the suit under chapter 11 of the North American Free Trade Agreement, which allows multinational corporations to sue governments if they feel they have not been treated as a domestic company would be treated.
A three-judge tribunal will issue a ruling, which can't be appealed to any national court. The panel can't force the U.S. to allow the pipeline, but it can award damages to TransCanada for lost investment.
Social activists and U.S. politicians, like Democratic presidential candidate Martin O'Malley, are using the lawsuit to campaign against another trade deal — the Trans-Pacific Partnership (TPP). It would create a 12-country free trade area — including Canada and the U.S. — that would encompass 40 per cent of the world's economy.
Outrageous. An example of why I oppose #TPP. Trade deals shouldn't value corporate profits over national interests. https://t.co/zGueB1DFx3

— Martin O'Malley (@MartinOMalley) January 6, 2016
Like NAFTA, the TPP includes an "investor-state dispute settlement mechanism," as these tribunals are called, or ISDS for short.
In a statement issued this week, the Sierra Club asserted the TPP "would empower more foreign fossil fuel corporations to challenge U.S. environmental protections in unaccountable tribunals."
"These destructive provisions ... show exactly why NAFTA was wrong and why the dangerous and far-reaching Trans-Pacific Partnership is worse and must be stopped in its tracks," executive director Michael Brune said.
The Obama administration now finds itself in a nuanced position— defending itself against the TransCanada lawsuit while arguing that such lawsuits won't be a threat to U.S. policies under the TPP deal that it's championing.
"Here is exactly the attack on U.S. environmental policy that the president insisted could never happen under the controversial Trans-Pacific Partnership trade deal," said Lori Wallach, director of trade issues at Public Citizen, as quoted at the Washington Times.
Supporters of the Keystone XL pipeline argue the pipeline would have little impact on emissions, as the oil moved through the pipeline can find other ways to market and would be burned anyway. But Keystone XL opponents have come to see the pipeline as a symbol of the U.S.'s will, or lack thereof, to move away from a carbon economy.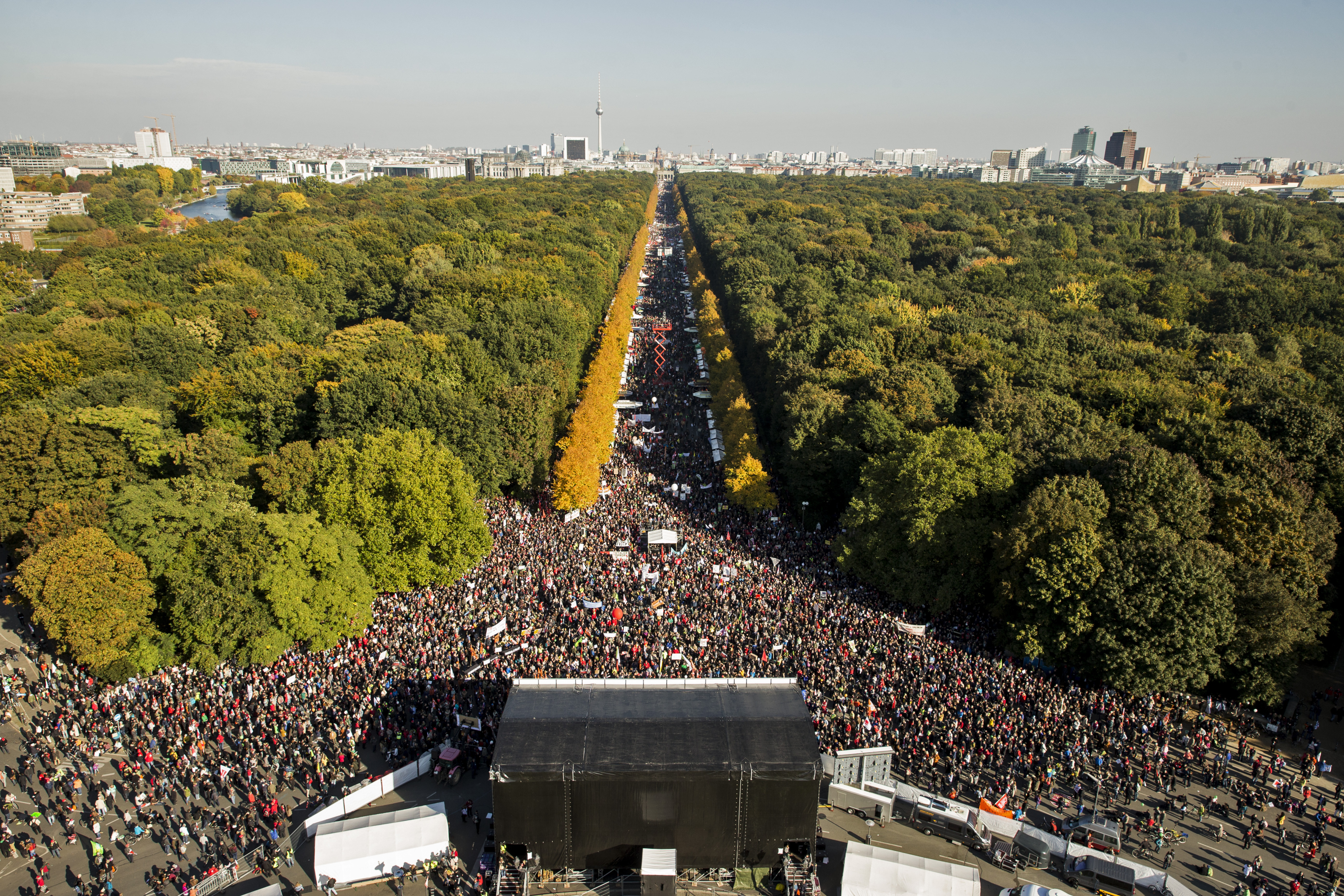 More than 100.000 protesters gather to demonstrate against the TTIP and CETA trade accords on October 10, 2015 in Berlin, Germany. (Getty Images)
A Global Controversy
Free trade tribunals aren't just an issue in the TPP. They have become a standard clause added to most free-trade agreements these days, including the proposed Canada-EU trade deal, known as CETA, and the proposed U.S.-EU trade deal, known as TTIP.
In Europe, these ISDS mechanisms are much more prominent in the political conversation, and have become the subject of mass protests against the U.S. and Canadian trade deals.
In the face of vocal opposition to the ISDS tribunals and other aspects of the deals, the two trans-Atlantic trade pacts appear to have stalled, at least for the moment.
Canada Gets Sued The Most
For its part, the Obama administration says it's confident its rejection of Keystone was "entirely consistent with all of our international obligations, including our obligations under NAFTA."
Not all observers agree. TransCanada has a "good shot" at winning the lawsuit, Queen's University law professor Nicolas Lamp said this week.
He pointed to the case of mining firm Bilcon, which earlier this year won the right to sue Canada and Nova Scotia under NAFTA after a joint governmental panel rejected the expansion of a quarry in Digby Neck, N.S.
"If the arbitration tribunal were to follow that precedent of the Bilcon case, I think it's quite likely that they will find against the U.S.," Lamp told the Canadian Press. However, NAFTA tribunals have no obligation to follow precedent.
But others argue the case is a long-shot. They note that so far, the U.S. has never lost a NAFTA challenge.
Canada, on the other hand, has often been on the losing end. A study last year from the Canadian Centre for Policy Alternatives found Canada has been the most-sued country under NAFTA, targeted in 70 per cent of all claims.
"Thanks to NAFTA chapter 11, Canada has now been sued more times through investor-state dispute settlement than any other developed country in the world," said Scott Sinclair, who authored the study.
"Unfortunately, compared to other parts of the world, there is surprisingly little political debate about the corrosive influence of ISDS on public policy and democracy in Canada."