You pay his salary, and now you'll have a better idea what he's up to each day.
The Prime Minister's Office announced Monday that it will release an itinerary of Justin Trudeau's scheduled events each day.
The move appears to represent a shift from the way things were done under former prime minister Stephen Harper, who informed the media about his public events but did not share details of his schedule.
"Such an advisory, with the Prime minister's schedule, will be released daily – in the spirit of openness and transparency," press secretary Andree-Lyne Halle said in an email.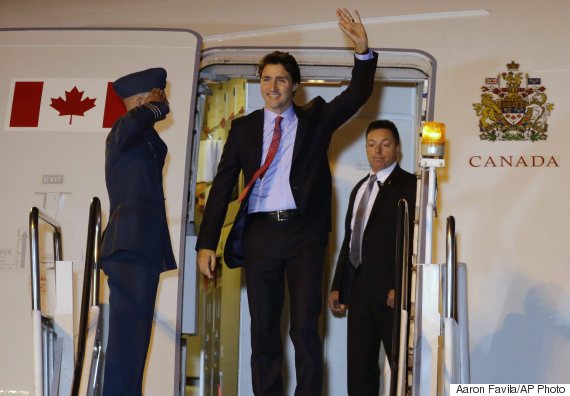 Prime Minister Justin Trudeau waves as he disembarks from his plane as he arrives for the Asia-Pacific Economic Cooperation summit in Manila, Philippines. (Photo: Aaron Favila/AP Photo)
Monday's release, however, was short on details — stating only that Trudeau was in private meetings in Ottawa.
Ministers' mandate letters, guides for parliamentary secretaries released
Liberals pledged on the campaign trail to run a more transparent government and to make data and information more easily accessible for Canadians. In an interview with The Huffington Post Canada just days before his election victory, Trudeau accused the Harper government of always chosing "secrecy and obfuscation instead of openness."
A week after he was sworn in as prime minister last November, Trudeau made public the ministerial mandate letters for all 30 cabinet ministers, outlining their key objectives and marching orders.
"For the first time in our country's history, we are making these letters public, so Canadians can hold us accountable to deliver on our commitments," Trudeau said in a release.
Though trumpeted as an "unprecedented" move, Trudeau's team was following the lead of governments in British Columbia, Ontario, Alberta, Saskatchewan, and New Brunswick.
Last week, Trudeau released the guidelines for his 35 parliamentary secretaries — something the government again said in a release had not been done before. Parliamentary secretaries are expected to assist cabinet ministers, particularly in question period, and receive a pay bump of $16,600 for the privilege.
But the guidelines also spell out what secretaries are prohibited from doing, from accepting sponsored travel to sponsoring private members' bills.
In a statement to media, Trudeau again said the step was taken in the interest of "being open with Canadians."
Private family vacation sparks chatter
The release of the prime minister's itinerary comes after a Trudeau family vacation to the Caribbean island of Nevis sparked headlines from local media and U.S. gossip website TMZ.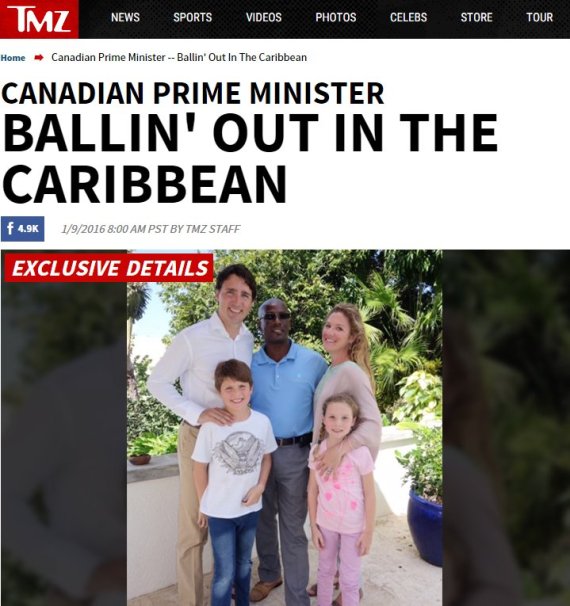 Prime Minister Justin Trudeau made tabloid headlines on Jan. 9, 2016. (Screenshot/TMZ)
Halle told The Canadian Press Sunday that Trudeau will reimburse taxpayers for the cost of his air travel, as well as that of his wife and kids. Security considerations prevent the prime minister from flying commercial, even on private business. He must instead use Department of National Defence Challenger jets, which cost about $10,000 per flying hour to operate.
"When travelling for personal reasons, and as was the case with previous prime ministers, Mr. Trudeau and members of his family travelling with him reimburse an economy airfare," Halle said.
With a file from The Canadian Press
ALSO ON HUFFPOST:
Trudeau's Photographer Explains Favourite Shots