René Angélil, an icon in the Quebecois music scene and manager to wife Celine Dion, will be remembered in a series of funeral events after he died on Thursday.
First, Angélil will be honoured in a Chapel of Rest at Montreal's Notre-Dame Basilica on Jan. 21 from 2 p.m. to 9 p.m.
The public is welcome to stop by and pay their respects, said a post from Dion's Facebook page on Friday.
A religious service will follow at the same venue on Jan. 22 at 3 p.m.
Surrounded by the love of his family and friends, René Angélil passed away on Thursday, January 14, 2016, on the eve of...

Posted by Celine Dion on Friday, 15 January 2016
Another service will take place at Las Vegas' Caesars Palace Colosseum, where Dion has a residency, on Feb. 3.
Angélil died after a long battle with cancer just before his 74th birthday.
Anyone who wishes to make a contribution in his memory is asked to donate to the Azar-Angélil Research Chair for ORL Cancer.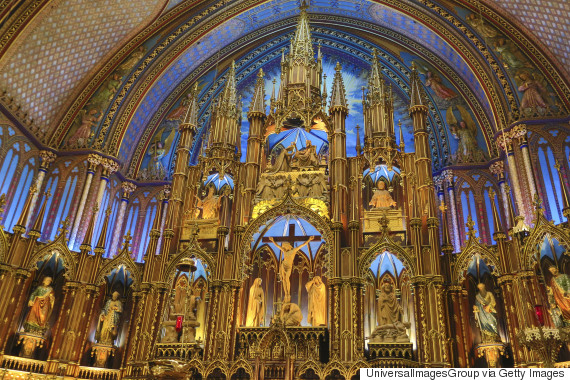 Montreal's Notre-Dame Basilica. (Photo: JTB/UIG via Getty Images)
Last year, Angélil resigned as Dion's manager and she took time off her Las Vegas residency to be at his side. She returned to her Caesars Palace show in August.
Dion has cancelled two Vegas dates on Jan. 16 and 17, and won't return to the stage until Feb. 23.
Like Us On Facebook

Follow Us On Twitter

Also on HuffPost
Celine Dion and Rene Angelil