After delivering a speech to a room full of global thinkers Wednesday, Prime Minister Justin Trudeau was pressed on the "logic" behind his plan to withdraw Canadian jets from the fight against the so-called Islamic State.
In his keynote address to the World Economic Forum, Trudeau touted Canada as a beacon of inclusion. He also noted how he welcomed Syrian refugees to Toronto last month as "new Canadians" and the future of the economy under a new government.
"Frankly our recent election reminded us all that people can respond to a positive, inclusive vision of society," Trudeau said. "The result is creativity that enriches Canada and the world."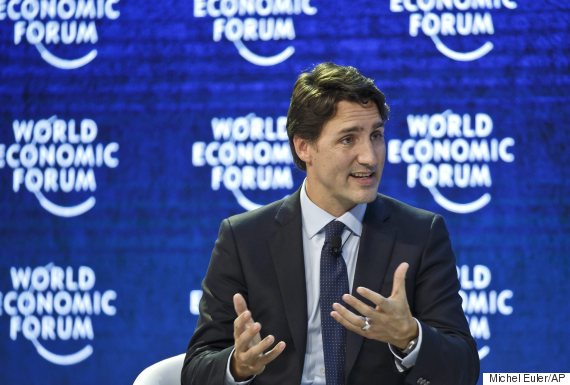 Prime Minister Justin Trudeau gestures as he speaks during a panel "The Canadian Opportunity"at the World Economic Forum in Davos, Switzerland. (Photo: Michel Euler/AP Photo)
After his speech, the prime minister sat down with CNN's Fareed Zakaria for a wide-ranging interview. Zakaria bluntly accused the past Conservative government of climate change "denial" and noted that, in the last election, Trudeau opposed stripping citizenship from dual citizens convicted of terrorism.
"I guess my question is — how on Earth did you get elected?" asked Zakaria.
Trudeau said his party put forward a positive vision and resisted attacks, strategic division, and negativity. Borrowing a phrase from Abraham Lincoln, Trudeau said Liberals called on "the better angels of people's nature."
When the conversation shifted to ISIS, Zakaria asked him to clarify if Canada will end "its fairly limited participation" in airstrikes against the terror group in Iraq and Syria.
"We continue to be part, militarily, of the coalition against ISIL."
The prime minister said Canada has a role to play in the global war on terror.
"We continue to be part, militarily, of the coalition against ISIL," Trudeau said. "We have committed, however, to end the airstrikes portion of our involvement in exchange for another way of military involvement, probably around training and such things that can help local troops bring the battle directly towards terrorists."
"Why? What's the logic behind this?" Zakaria wondered.
Trudeau said all countries need to look at where they can be most effective.
"Over the past 10 years — this is not to take anything away from the fighter pilots that we have in Canada — but over the past 10 years, Canada developed a tremendous level of expertise in training, in intelligence on the ground in Afghanistan, for example."
The prime minister added that recent history has shown conflicts similar to the one with ISIS "need to have their resolution on the ground."
The platform that helped Liberals capture a majority government stated the party would end the combat mission if elected and "refocus" efforts on training local forces.
Conservatives have argued Canada can support a larger training mission and still keep its CF-18 fighter jets in the battle.
Watch Trudeau's speech and interview with Zakaria below:
Top Tory critic: Trudeau's remarks 'disappointing'
Conservative defence critic James Bezan told The Huffington Post Canada that the "only clear message" delivered by Trudeau was that Canada is withdrawing the CF-18s.
He said the prime minister's remarks were particularly "disappointing" when one considers that major allies were, at the same time, meeting in Paris to map out next steps in the ISIS fight.
Earlier this week, Tories said the fact that Canada was not invited to that meeting proved allies now see this country as stepping back. Defence Minister Harjit Sajjan, however, dismissed the notion that we were snubbed and reminded reporters he will meet with counterparts in Brussels in two weeks.
"It's shameful," Bezan said. "Many members of the military, including veterans, are very insulted we (aren't) at the table."
Trudeau and his ministers have failed to articulate how pulling the planes is "at all helpful," Bezan said, or why Canada can't keep up both the bombing and training mission.
"We haven't heard from one ally who says taking our CF-18s out of the fight is a good thing," he said.
Also on HuffPost
Trudeau's Photographer Explains Favourite Shots