It's long been argued that once a new government hits 100 days in power, it's time to take stock.
Though an arbitrary benchmark, some have suggested that 100 days is the period in which a new leader is able to exert the most influence — particularly if they can ride the powerful mystique that comes from winning an election.
Prime Minister Justin Trudeau has now been in charge for 100 days, swept into the office in October on the wings of "real change."
As a critical eye is now turned on the promises his government has kept and broken, the Liberal Party of Canada has released a splashy video marking the occasion. And the prime minister took some direct questions from Canadians on Twitter Friday.
It touches on tragedies in Paris and La Loche, Saskatchewan, and the numerous global summits that marked Trudeau's international debut.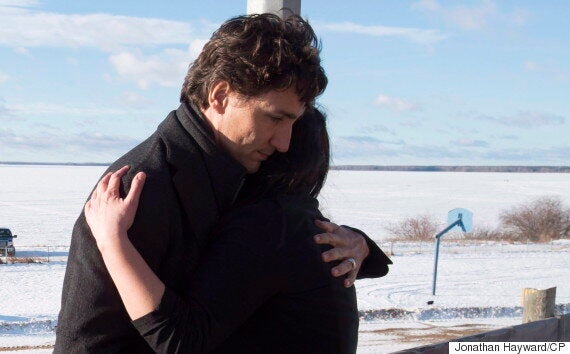 Prime Minister Justin Trudeau hugs a woman in La Loche, Saskatchewan in January. (Photo: Jonathan Hayward/CP)
The clip even includes a moment from the press conference this week where Trudeau unveiled the government's new strategy against the so-called Islamic State. As promised, Canada's CF-18s will stop airstrikes against ISIS and the training mission will be significantly enhanced.
NDP: '100 days of missed opportunity'
The release from New Democrats on Thursday criticized Liberals for not doing enough to address income inequality or deliver promised change.
"100 days into a Liberal government and people are still working harder than ever, but can't get ahead."
The NDP blasted the government for, among other things, signing "Stephen Harper's job-killing Trans-Pacific Partnership trade deal," upholding climate targets as weak as the past government, and not overhauling the controversial Bill C-51 terrorism legislation. The party also accused Liberals of "breaking their word" on restoring door-to-door home mail delivery.
"100 days into a Liberal government and people are still working harder than ever, but can't get ahead," the release reads.
Trudeau responds to questions about #first100
To mark his 100th day on the job, Trudeau announced Friday that the federal government will double a program that helps students land summer jobs.
He also answered (some) questions from Canadians online from the Twitter Canada office in Toronto.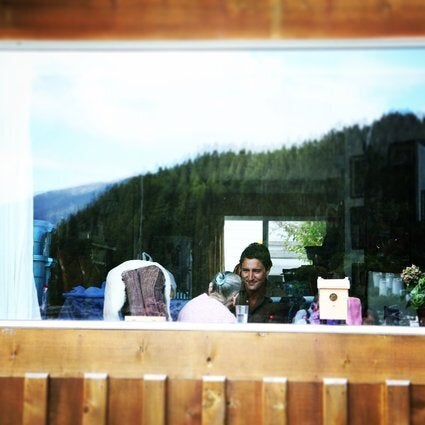 Trudeau's Photographer Explains Favourite Shots