Asking what the deficit cap will be in next month's federal budget isn't the right question, Canada's finance minister suggested Tuesday.
The remark was another shift from where federal Liberals stood in October, when they vowed that annual deficits would not exceed $10-billion and that they would return to balance within four years.
In the first question period in a week, Finance Minister Bill Morneau faced accusations from Conservatives that the Liberal government was preparing to spend irresponsibly and break promises.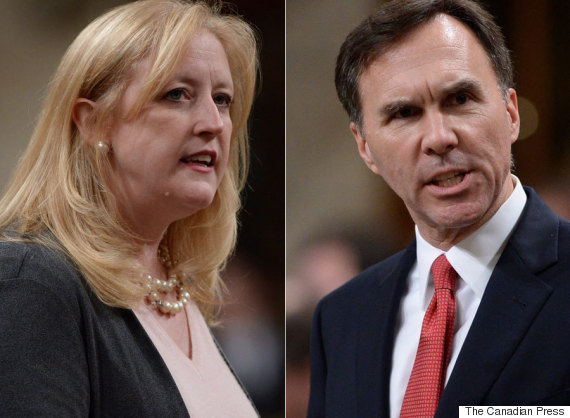 Conservative MP Lisa Raitt and Finance Minister Bill Morneau are shown speaking in the House of Commons Tuesday. (Photo: The Canadian Press)
Morneau, in turn, reminded the official Opposition that Liberals were elected on a pledge to invest and will do so.
Tory finance critic Lisa Raitt rose to "do a little recap" on the three major promises Prime Minister Justin Trudeau's team made before forming government.
"One was that any tax changes would be revenue-neutral. We know that not to be true," she said, pointing to revelations that income tax changes made in December will cost the treasury $1.2 billion annually over the next five years.
"Two was that there'd be a $10 billion deficit, a modest one. We think that's not to be true.
"Three, they said they would balance at the end of their mandate, which we understand from press clippings this week, that is not the case," she said, referencing Trudeau's recent admission that returning to balance will be difficult in a weakening economy.
"My question to the finance minister is this. Can he at least tell us what the deficit cap will be in the budget?" she asked
"When you're making serious promises to serious families with respect to middle income and how much money they're going to have at the end of the day, they better fulfill them."
Morneau ducked the inquiry by hinting at more spending.
"We believe that the right question to ask is, 'What are we going to do in order to improve the economy for all Canadians?'" he said, a comment that sparked jeers from Tories.
"We were elected on a plan to grow the economy in order to help those Canadians that are struggling, that are most vulnerable, and those middle class Canadians to do better."
Morneau said the government has already delivered the so-called middle class tax cut for nine million Canadians, and will move forward on its Canada child tax benefit and "significant" infrastructure investments to boost the economy.
Raitt offers advice
Raitt, a former senior cabinet minister in the last government, shot back with some advice.
"When you're making serious promises to serious families with respect to middle income and how much money they're going to have at the end of the day, they better fulfill them because they're counting on them," she said.
Raitt also asked Morneau to confirm that provinces won't be adversely affected by the Liberals' pledge to make their new child benefit tax-free. The minister would only confirm that the "money will go to the most vulnerable to help them to lead better lives."
Top Tory unimpressed with boost to summer jobs program
Maxime Bernier, Tory critic for innovation, even poured cold water on Trudeau's announcement last week that the government will spend $339 million over the next three years on a program that helps students land summer jobs.
Bernier said the prime minister celebrated his 100th day in office by "spending money, once again, that he doesn't have." He even called the investment a "completely hypocritical" move from a government he said will indebt future generations.
Morneau shot back that Liberals will respect their election pledge to invest, but do so with discipline.
"We always want to have a balanced budget, but we also recognize that the task will be difficult within this economy," he said in French.
Shortly after question period, Tories released a statement warning that Trudeau was planning "massive deficits."
With a file from The Canadian Press
Also on HuffPost
Longest-Serving Current MPs