The Liberal government's retooled strategy on the so-called Islamic State is widely acceptable to most Canadians, a new poll suggests.
According to numbers from Abacus Data, released Wednesday, 70 per cent of Canadians accept, support, or strongly support the plan announced by Prime Minister Justin Trudeau and his key ministers last month. Less than one-third oppose Canada's changing role in the effort to eradicate ISIS.
The numbers could give a boost to Liberals who have been accused by Conservatives of taking a "shameful" step back by ending airstrikes against the terror group in Iraq and Syria. The revised Grit plan will instead triple the number of military forces training local Kurdish troops on the ground and increase humanitarian aid.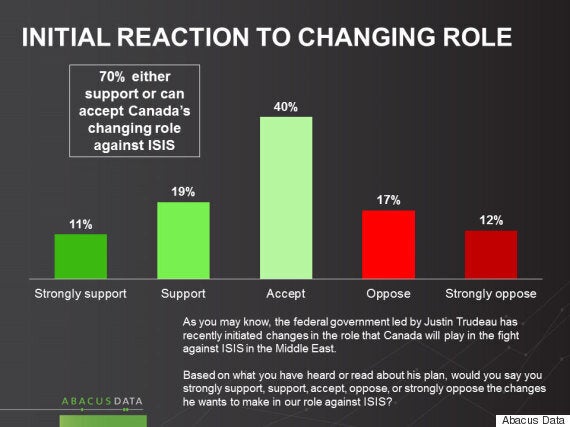 Unsurprisingly, those who voted Liberal in the fall are the most enthusiastic about the plan with 90 per cent of supporters expressing favour. But 78 per cent of NDP supporters also back the new strategy — posing a potential problem for NDP Leader Thomas Mulcair who vowed to completely end Canada's involvement in the fight against ISIS and has blasted Trudeau's plan as an "enhanced combat mission."
35 per cent of Tory voters back plan
And it seems Conservative voters aren't as bothered by the change as one might imagine, as well. Thirty-five per cent of Tory voters said they supported or accepted the new strategy.
Interim Tory Leader Rona Ambrose has consistently lambasted Trudeau for ending the bombing mission, calling the decision a "betrayal" of Canada's allies, its military history, and the government's obligations to keep Canadians safe.
Conservative MP Kellie Leitch, who is a mulling a run for the party leadership, said last December that Liberals were making Canada look like "cowards" on the world stage.
But when Abacus Data provided respondents with more information about the plan — including details about increasing training and ending the bombing mission — support for the new role jumped by nine percentage points overall.
And, among Tory voters, opposition to the strategy dropped 10 points.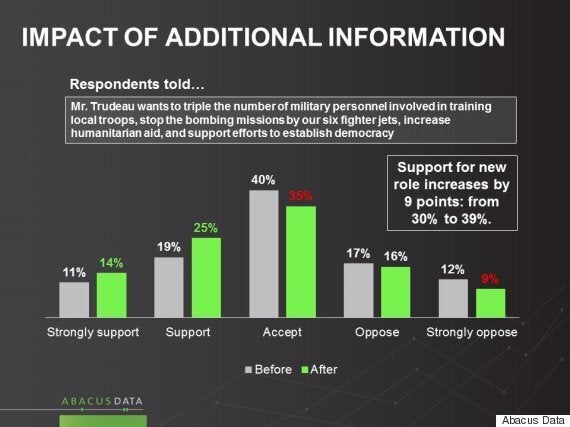 Though Trudeau has faced accusations of incoherence when it comes to ISIS, Abacus suggested in the poll summary that the numbers point to a "growing measure of confidence" that he has come up with a credible plan. And some of the more pointed jabs against Trudeau, it seems, aren't landing.
The poll was conducted online among 3,824 Canadians between Feb. 19 and 25. Abacus says a random sample of panelists were invited to take the survey from a "larger representative panel of Canadians." The margin of error for a similar survey is 1.6 per cent, 19 times out of 20.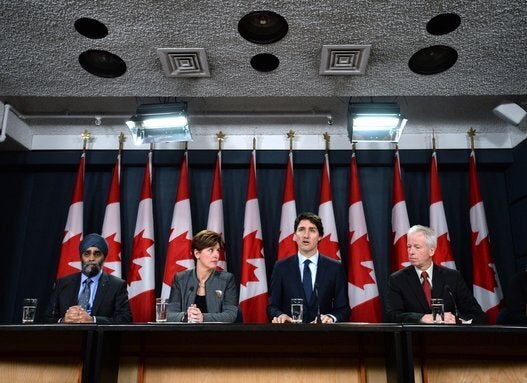 Canada's ISIS Mission: Then & Now