U.S. President Barack Obama has given a ringing endorsement to Canada's revamped mission against the so-called Islamic State.
Obama welcomed Prime Minister Justin Trudeau to the White House Thursday, just two days after the House of Commons voted to formally end Canada's contribution to the U.S.-led airstrikes against ISIS and triple the amount of troops training Kurdish forces on the ground.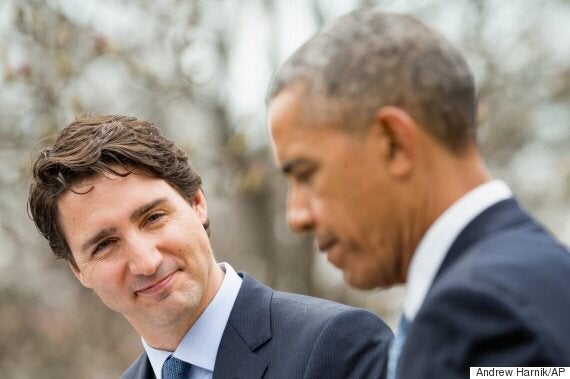 Prime Minister Justin Trudeau thanks U.S. President Barack Obama while speaking at a bilateral news conference in the Rose Garden of the White House in Washington on March 10, 2016. (Photo: Andrew Harnik/AP)
Federal Conservatives argue the decision is an abdication that puts Canada offside with its most important ally. They also noted last December that Obama did not thank Canada at a briefing in which he lauded many other nations for their contribution to the fight.
At a press conference with Trudeau, Obama made it clear he does not believe Canada is stepping back.
"As NATO allies, we're united against the threat of terrorism," Obama said. "Canada is an extraordinarily valued member of the global coalition fighting ISIL, tripling its personnel to help train and advise forces in Iraq, stepping up its intelligence efforts in the region, and providing critical humanitarian support."
Obama said Canada and the United States are also working to prevent the flow of foreign fighters and have agreed to share more information on no-fly lists while still upholding civil liberties. He said both countries have been leaders in getting humanitarian aid to Syrians in desperate need.
"Canada is an extraordinarily valued member of the global coalition fighting ISIL."

— U.S. President Barack Obama
"Meanwhile, our two countries continue to safely welcome refugees from that conflict and I want to commend Justin and the Canadian people, once again, for their compassionate leadership on this front," he said.
'We stand united against terrorism'
Earlier, in a speech welcoming Trudeau to Washington, Obama reflected on the military history their two nations share.
"Americans and Canadians, our brave men and women in uniform, have paid the price together across a century of sacrifice, from the poppy fields of Flanders to the rugged mountains of Afghanistan," he said.
"As NATO allies, we stand united against terrorism and for the rights of nations like Ukraine to determine their own destiny."
Obama also suggested Canada-U.S. relations have improved since Trudeau took over.
"Your election and the first few months in office have brought a new energy and dynamism not only to Canada but to the relationship between our nations," he said. "We have a common outlook on the world. And I have to say, I have never seen so many Americans so excited about the visit of a Canadian prime minister."
Canada's ISIS mission 'probably riskier': Trudeau
"The fact is there's about 65 different countries in that coalition," he said. "All of them are doing very, very different things."
Ending the bombing campaign and instead focusing on training will make a "bigger impact," the prime minister said.
He also conceded that the new plan could put troops in more danger.
"It's probably riskier to have someone on the ground, even far from the front lines in the Middle East, then over flying at 5,000 feet in a multi-million dollar aircraft," he said.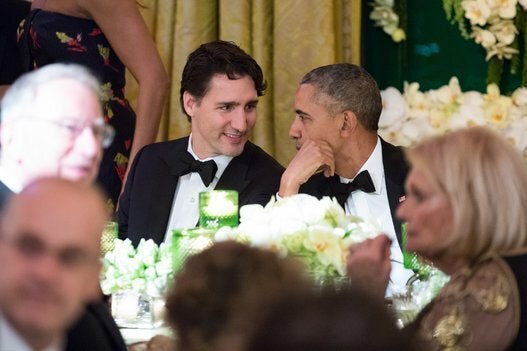 Trudeau's Historic Washington Visit