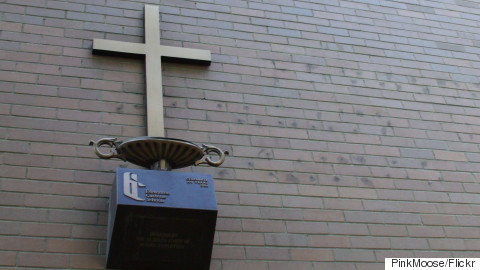 The Edmonton Catholic School District is on its third draft LGBTQ student policy. (Photo: Anthony Easton/Flickr)
UPDATE: The Edmonton Catholic School District voted to pass the policy Tuesday evening.
The Edmonton Catholic School District has released its third version of a policy to include LGBTQ students, and one critic is calling it the worst attempt yet.
Alberta's education minister gave provincial school boards until March 31 to submit LGBTQ policy drafts. The Edmonton Catholic school board has repeatedly dragged its feet on submitting a document that follows Alberta's guidelines.
The latest proposed policy is just over one page long, and states that "discrimination ... is to be overcome and eradicated as contrary to God's intent."
A previous version of the draft hedged on whether "just" discrimination should be allowed.
"It's so generic that it is practically meaningless."
The current draft does not describe or define what constitutes discrimination. It also doesn't state how it will comply with the province's guidelines, instead noting that students and staff will be provided with a "welcoming, caring, respectful, safe and Catholic environment."
Kris Wells, director of the Institute for Sexual Minority Studies and Services at the University of Alberta, said it is the board's weakest attempt to date.
"It's so generic that it is practically meaningless," Wells told Metro News.
- Policy isn't even compliant with Bill 10 & is so generic it has no meaning. The 1st & 2nd policy attempts were better than this one!?

— Dr. Kristopher Wells (@KristopherWells) March 14, 2016
John Acheson, vice-chair of the Edmonton Catholic School Board, said the policy "is not to be seen in a negative light as a compromise."
Human rights complaint
The Edmonton Catholic school district was the subject of a human rights complaint from a seven-year-old transgender student last year, because she wasn't allowed to use the girls' washroom.
Marni Panas, a transgender parent who has a child attending Catholic school, told the Edmonton Journal the current draft policy goes no further than the one that led to the girl's initial complaint.
@ABActivist@EdmCathSchools@EPSBNews It's barely adequate minimum standard under law. Nothing more. Need much more. Kids are suffering.

— Marni Panas (@marnipanas) March 15, 2016
The Edmonton Catholic board's policy is set to go before trustees Tuesday. Alberta Education Minister David Eggen said he will reserve comment until then.
"All school boards know that they have to make sure that they protect all children equally," said Eggen in an interview with CBC News.
The Edmonton Catholic School Board isn't the only one skirting the province's guidelines for supporting LGBTQ students.
The Grande Prairie Catholic School District said it has no intention of respecting provincial recommendations that students be allowed to self-identify with preferred gender pronouns.
Supt. Karl Germann told The Daily Herald Tribune that the board's policy only intends to recognize the gender printed on a child's birth certificate.
Like Us On Facebook

Follow Us On Twitter
Also on HuffPost: