A topless protester crashed a media scrum outside a Toronto courthouse shortly after a judge acquitted Jian Ghomeshi of sexual assault charges on Thursday.
The woman jumped in front of cameras and screamed "Ghomeshi guilty" as Crown lawyers addressed reporters. She was later released without charge, according to a Toronto Star reporter.
Warning: The following images may be graphic to some readers
Topless woman protester restrained by #police at presser in #Ghomeshi #case #Toronto @NewDay @TSN1040 @GlobalBC pic.twitter.com/hCDFCDsCaC

— 604Vancity (@steveoxyz) March 24, 2016
Written on her back in paint was the message, "Women declare Ghomeshi guilty."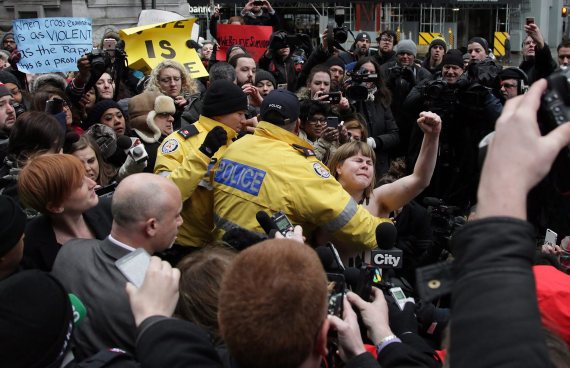 A topless protester gets taken down by police outside Toronto's Old City Hall on March 24, 2016. (Photo: Colin Perkel/The Canadian Press)
Police tackle a protester outside a Toronto court. (Photo: Christopher Katsarov/Canadian Press)
Police arrest protester outside #Ghomeshi trial. Chanting "we believe survivors" pic.twitter.com/q5nQW8B0bF

— Daniel Brown (@DanielBrownLaw) March 24, 2016
Witnesses reportedly shouted "don't hurt her" as police tackled the woman on the ground and handcuffed her.
A protester yelling "Ghomeshi guilty" interrupts the scrum and is tackled by police #Ghomeshi pic.twitter.com/Kg1OjKkRto

— Dan Taekema (@DanTaekema) March 24, 2016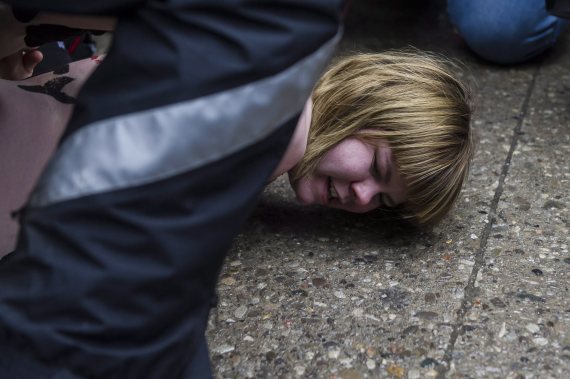 A topless protester lies on the ground outside the Toronto courthouse where Jian Ghomeshi was acquitted of sexual assault charges. (Photo: Christopher Katsarov/The Canadian Press)
The former CBC star was found not guilty on five charges that included four counts of sexual assault and one count of overcoming resistance by choking.
Ghomeshi will face a new sexual assault trial later this year stemming from another complainant about an alleged incident in the workplace. That case will be heard in June.
More coverage:
Also on HuffPost
Jian Ghomeshi Case: A Timeline