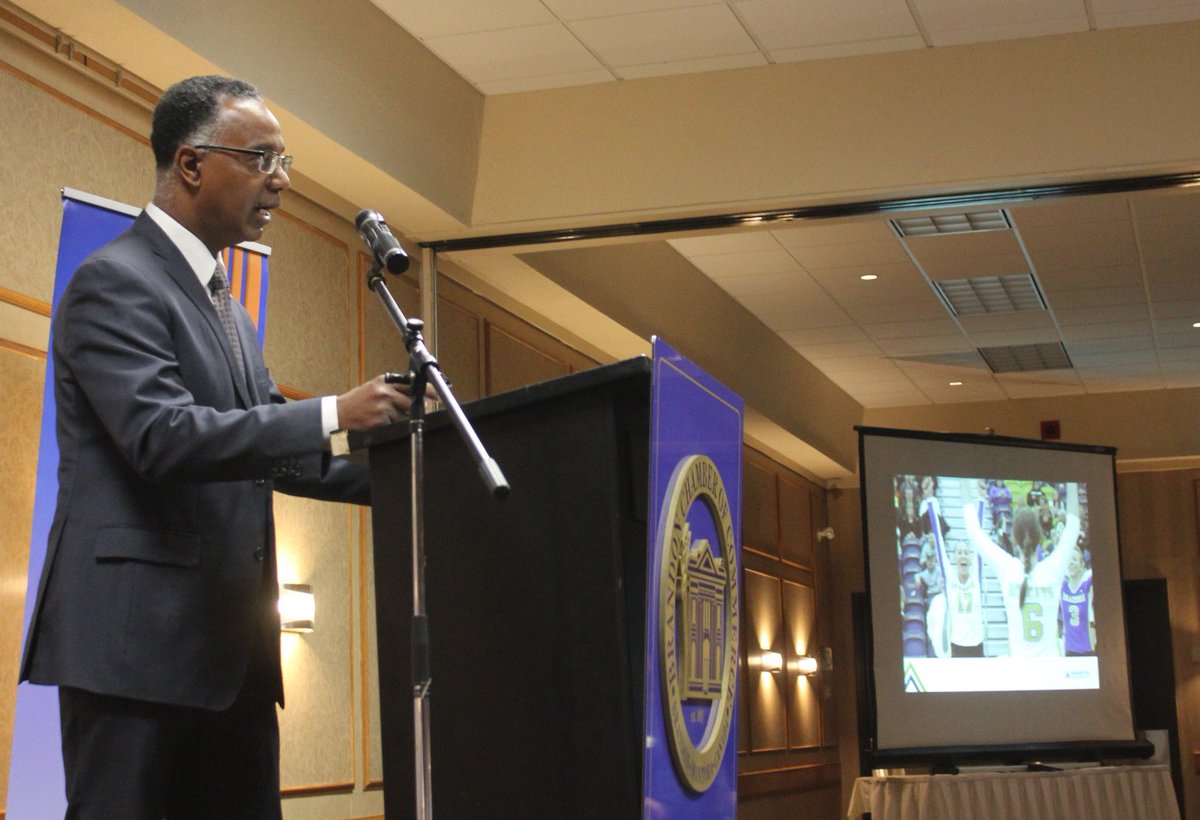 Brandon University president Gervan Fearon addresses a crowd on March 10, 2016. (Photo: Twitter)
After piercing public backlash, a Canadian university has admitted its practice of using contracts to ensure silence by sex assault survivors is "not helpful."
"Categorically, we acknowledge it was not appropriate and is not appropriate in this case or in cases of sexual violence and sexual harassment," Brandon University president Gervan Fearon said during a press conference Tuesday.
Behavioural contracts have been used in two incidents in the school's recent history, according to acting vice-president Steve Robinson.
Fearon said the contracts, which are "rarely" used, will be discontinued. A new sexual harassment policy will be adopted by September, he pledged.
Brandon University students are seen during an orientation event in 2012. (Photo: Facebook)
The small Manitoba university was forced to explain its controversial policy after it was revealed that administrators "forcibly" asked a survivor of sexual violence to sign a non-disclosure agreement about an on-campus incident.
"They're given this contract saying the only way the university can guarantee your safety and confidentiality is if you sign this agreement," Brandon University student Stefon Irvine told The Huffington Post Canada in an interview. "In their mind, it's the only option they have."
Certain conduct expected of complainants
The two-page behavioural contract, made public by Irvine this week, outlines a code of conduct expected of students who file reports of rape and sexual violence on-campus.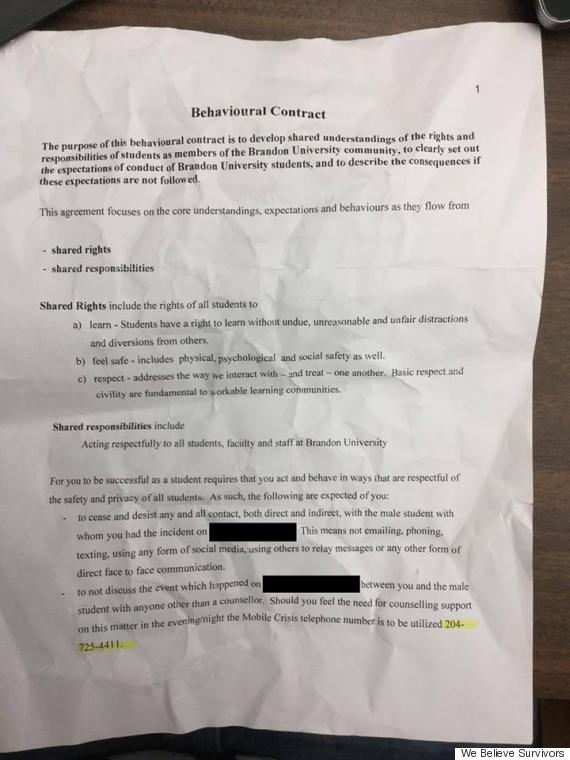 A student was asked to sign a behavioural contract after she came forward to school administrators with an allegation of on-campus sex assault. (Photo: Stefon Irvine)
One of the clauses in the document asks the student to "cease and desist any and all contact, both direct and indirect, with the male student with whom you had the incident."
It specifically mentions no email, phone calls, texting, or any form of social media. Direct face-to-face communication is also listed as prohibited.
Another stipulation asks students to "not discuss" the incident "with anyone other than a counsellor." Consequences, including possible suspension and expulsion, are hinted at if the rules are not followed.
Abiding the contract is framed as "pivotal" to the student's "future well-being and success."
"I wasn't exactly shocked, because I know through the research that these contracts do exist and are silencing victims."
— Stefon Irvine, Brandon University student
To Irvine, the language used in the contract is insensitive and treads on emotional manipulation.
The contract was forwarded to the on-campus group, We Believe Survivors, to collect Brandon University students' accounts of sexual assaults. The group was set up after ex-CBC broadcaster Jian Ghomeshi's acquittal last month on charges of sex assault.
Irvine, a pre-psychiatric nursing student and lead organizer with the group, says six people have so far come forward with their stories; only one made explicit mention of the behavioural contract.
Seeing evidence of its existence at the school was disappointing, but not surprising, he said.
"I wasn't exactly shocked, because I know through the research that these contracts do exist and are silencing victims. Just knowing that it was so close to home, it was definitely a little bit more alarming."
Slow response from university officials
Police confirmed to CBC News that officers looked into a sex assault claim at Brandon University last year. No charges were laid after interviews with both parties and consultation with the Crown.
"It shows the university is continually trying to sweep this issue under the rug."
— Stefon Irvine, Brandon U student
Irvine criticized the university's slow response to the controversy.
"It shows the university is continually trying to sweep this issue under the rug," he said of the school's silence. "Why aren't they saying, 'Yes this is happening.'"
Students have organized an event for Wednesday to draw attention to on-campus sexual assaults and inadequate actions by school administrators.
Cross-Canada campus problem
Last year, a survey conducted by CBC News found 16 post-secondary schools reported zero incidents of sex assaults in the past six years.
Critics said the worrisome data signals that some school's aren't doing enough to encourage survivors of rape and sexual violence to come forward for help.
A University of Ottawa criminology professor told the broadcaster the zero-incidents count isn't linked to reality.
"It's not counting what is the true experience of students, because there is no campus in which this doesn't exist," said Holly Johnson.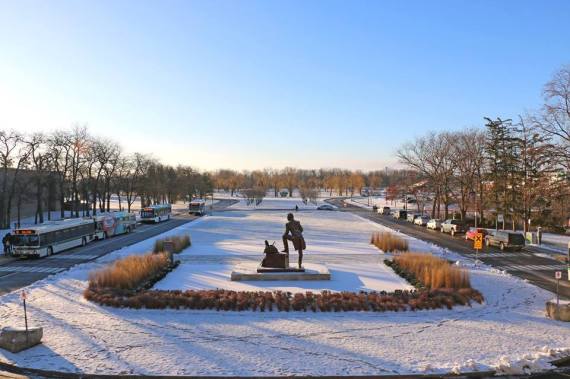 File photo of Brock University. (Photo: Facebook)
Canadian post-secondary schools have frequently faced criticism over how students' reports of rape and sexual violence are handled.
Brock University in Ontario was forced to apologize after it was revealed that a former student was warned to be silent about a history professor who gave her alcohol, and forced himself onto her in his office.
"The university sincerely regrets the emotional trauma this incident has caused to the complainant," the school said in a statement on March 11.
"Brock has a reputation, affirmed by its students, for providing a safe and welcoming environment, and is committed to living up to that reputation."
The professor no longer teaches on campus.
Human rights complaint launched
In Western Canada, staff at the University of British Columbia issued an open letter to students earlier this year apologizing for not acting on their behalf to demand better sexual assault policies.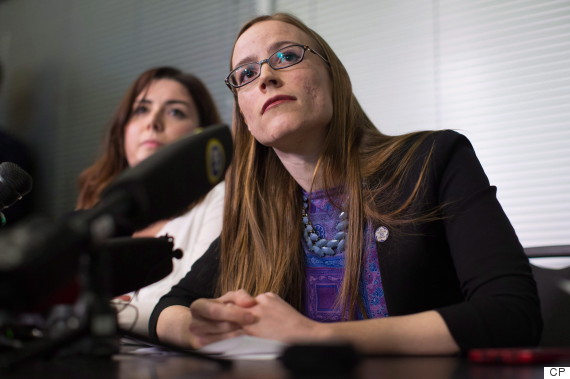 Former University of British Columbia students Glynnis Kirchmeier and Caitlin Cunningham, back, listen during a news conference at the university in Vancouver in November 2015. (Photo: Darryl Dyck/CP)
An investigation revealed it took a year and a half for the school to follow up on multiple sex assault complaints against a former student.
Former UBC student Glynnis Kirchmeier filed a complaint with the province's human rights tribunal last week, alleging the school failed to act on complaints as far back as 2012 about a male PhD student, which allowed him to sexually assault more women.
None of the claims have been proven. The male student was expelled in November.
Also on HuffPost:
40 Powerful Images Of Surviving Sexual Assault