Toronto has taken one small step toward regulating ride-sharing services like Uber — and neither cabbies, nor their friends on city council are happy about it.
City staff have drafted a series of regulations that will be presented to the Licensing and Standards Committee next week.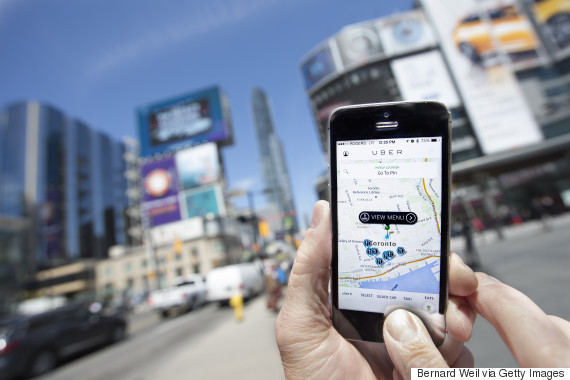 An Uber app shown in Yonge-Dundas Square in Toronto. (Photo: Bernard Weil/Getty Images)
Among other things, they would make drivers for Uber and similar services pay a one-time, $20,000 licensing fee, a $10 annual fee and another $0.20 per trip.
The rules would also require drivers to obtain $2 million in insurance, as taxi drivers do currently.
But some of the changes also affect cabbies. Under the new rules, they would have to pay a $290 annual licensing fee and obtain inspections twice a year, while Uber drivers would only have to do it once.
Toronto Mayor John Tory has expressed support for the new regulations, saying the city "has an opportunity to put the interests of its residents first and create a regulatory environment that protects drives and allows companies to fairly compete."
But they didn't impress Sam Moini, president of the Fleet Operators Association, who said cabbies will lobby council to stop new rules that give Uber a leg up, The Toronto Star reported.
They also didn't pass muster with Coun. Cesar Palacio, chair of the Licensing and Standards Committee, who said they don't level the playing field between Uber and cabbies.
Nor did they find favour with Coun. Janet Davis, who has long worked on the issue of taxi reform.
Complete capitulation to Uber and standard plate owners in new taxi regulations. Consumers and drivers abandoned by de-regulation.

— Janet Davis (@Janet_Davis) April 7, 2016
Taxi proposals don't level playing field, they lower the floor. Allows for self regulation/de-regulation of safety standards, fares,supply.

— Janet Davis (@Janet_Davis) April 7, 2016
Uber, which started operating in Toronto in 2012, has a fraught history in the city.
Last year, a taxi protest against the ride-sharing company saw drivers slow traffic on major routes such as Highway 427 and the Gardiner Expressway.
One cab driver was filmed being dragged by what he claimed was an Uber vehicle. He wasn't hurt.
The city of Toronto also sought an injunction last year that would have shut down Uber for good. It argued that the ride-share company should abide by taxi bylaws.
The request was shot down by an Ontario Superior Court judge, who said there was no proof that the company was breaking any bylaws, and that the issue should be resolved by politicians.
City council is set to vote on the proposed rules next month.
Also on HuffPost:
London Black Cab Drivers Protest Against Uber