Rex Murphy has painted quite the gloomy picture for his home province.
The CBC commentator dedicated his latest Point of View segment to Newfoundland and Labrador's latest budget, "a document of bite and chill." The budget includes a buffet of tax hikes, new fees and cuts while forecasting a deficit of $1.8 billion.
"The government chose to meet this fearsome projection not so much by spending reduction, as by introducing fees on everything but getting out of bed," Murphy says.
One of the budget's most peculiar items is what the government is calling a deficit reduction levy, which is essentially a tax on Newfoundland residents, depending on their income, according to CBC News.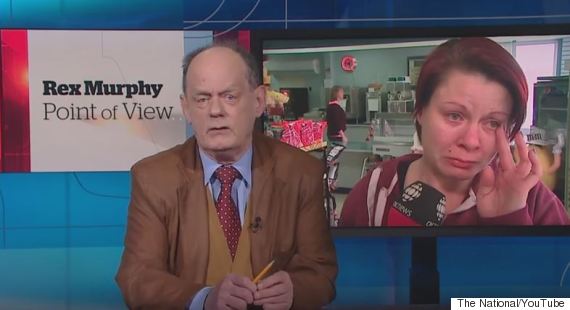 Rex Murphy says Newfoundland is once again in a "hard spot." (The National/YouTube)
"This levy, in conjunction with the personal income tax, is collecting money that the province needs right now," Finance Minister Cathy Bennett said.
Murphy takes slight issue with the word "levy."
"The Liberal government, by the way, called it a levy because they already overworked the word tax, and they thought they better save 'kick in the taxpayer's groin' until next year," Murphy says in the segment.
The budget, the Liberals' first since getting elected in December, also includes a new tax on books, a first for a Canadian province. Newfoundlanders also recently found out the province would be closing more than half of its libraries.
The province's library resources board announced on Wednesday it was adopting a new "regional library model," which would shut down 54 branches over two years, leaving 41 open.
On Friday, hundreds turned out to protest the budget in St. John's, blasting the government for the new measures.
I'd say there's more than 1,000 people at Confederation Building right now. But it's hard to tell. #nlpoli pic.twitter.com/gmcsu32IMf

— Ariana Kelland (@arianakelland) April 29, 2016
Registered Nurses speak out: "This is the day we turn Newfoundland&Labrador around!" #nlpoli #canlab pic.twitter.com/Fa3M2868pb

— Hans Rollmann (@hansnf) April 29, 2016
The situation has put the province in a "hard spot," Murphy says, and "no political party home, PC, Liberal or NDP, has the slightest clue where things are headed."
Also On HuffPost: