The Conservative Party of Canada has released a video slamming Prime Minister Justin Trudeau for making a "Star Wars" joke to his Liberal caucus this week moments before discussing the devastating fire in Fort McMurray, Alta.
Trudeau spoke to Liberals Wednesday to mark his government's first six months in power. May 4 is considered "Star Wars Day" because some people jokingly greet each other with "May the fourth be with you."
"It's extremely wonderful to see everyone in such a good mood celebrating 'Star Wars Day' today," Trudeau told his MPs shortly after stepping to the microphone. "May the fourth be with you."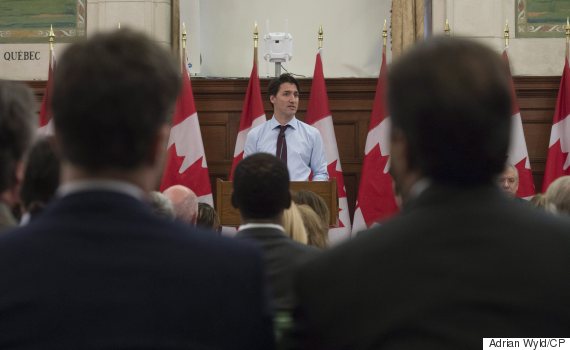 Prime Minister Justin Trudeau addresses members of caucus on Parliament Hill in Ottawa on Wednesday. (Photo: Adrian Wyld/Canadian Press)
The prime minister then went on to say that "before anything else, our thoughts are turning to our friends in Alberta." He told his MPs that he has offered Ottawa's "total support" to Alberta Premier Rachel Notley and lauded Public Safety Minister Ralph Goodale as the best person to handle the government's response to the crisis.
The 30-second Tory video, shared to Facebook, seems to suggest Fort McMurray is less of a priority to Trudeau than jokes.
&nbsp
Of course, Tories released their own "Star Wars" meme on Wednesday, hammering home the party's assertion that they left the Liberal government a surplus.
#MayThe4thBeWithYou #cdnpoli pic.twitter.com/L9pWhdfqZI

— Conservative Party (@CPC_HQ) May 4, 2016
The clip was released hours after Trudeau, interim Conservative Leader Rona Ambrose, NDP Leader Thomas Mulcair and Green Party Leader Elizabeth May spoke in the House of Commons about how Canadians must come together to support Fort McMurray.
Ambrose was complimentary of both Trudeau and Goodale for the work they've already done on the crisis.
"I want to again thank the prime minister and the minister of public safety and emergency preparedness for making this issue a priority," she said. "But most of all, on behalf of all of us, I want to tell the families, the workers, the first responders, and all the public officials who are coping with this crisis that we are here for them."
Ambrose grew emotional in her remarks. When she was finished, Trudeau crossed the aisle to give her a hug.
&nbsp
The prime minister also announced Thursday that the federal government will match donations to the Red Cross to help those in Fort McMurray.
"The outpouring of goodwill and compassion from Canadians right across the country has not only been inspirational, it has been entirely characteristic of who we are, and the fundamental human values we share as Canadians," he said.
Later in question period, Trudeau confirmed that Fort McMurray will take priority in federal infrastructure funding as it rebuilds.
Also on HuffPost