The Liberal government has again used its majority to cut short debate, this time on a budget implementation bill that New Democrats have labelled omnibus legislation.
On Tuesday morning, Government House Leader Dominic LeBlanc introduced a time allocation motion on Bill C-15, currently in its second reading, after three days of debate.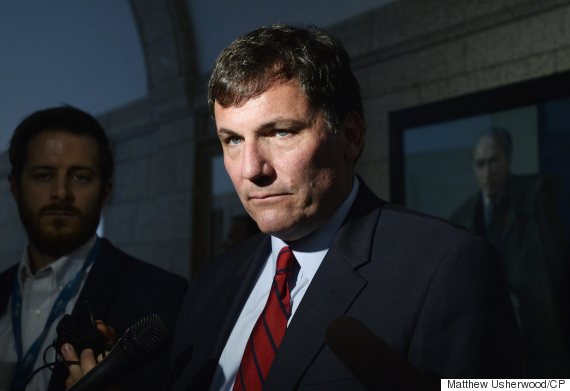 Government House Leader Dominic LeBlanc speaks to reporters in Ottawa on March 9, 2016. (Photo: Matthew Usherwood/Canadian Press)
Time allocation is a procedural tool that limits parliamentary debate so that a bill can more quickly become a law. Critics have long derided the practice as undemocratic.
Last month, Liberals invoked closure on proposed changes to the Air Canada Public Participation Act. And last week, Liberals imposed time allocation on Bill C-14, its physician-assisted dying legislation. Grit backbencher Robert-Falcon Ouellette earned kudos from Conservatives and New Democrats by voting against his own government's motion.
NDP Leader Thomas Mulcair, Green Party Leader Elizabeth May, and several other MPs took to Twitter Tuesday to disparage the latest time allocation and suggest it conflicts with the "sunny ways" and transparency promised by Prime Minister Justin Trudeau.
The Huffington Post Canada has reached out to LeBlanc's office to get his response to the criticism.
Liberals are shutting down important debate on their very 1st budget bill. Not the behaviour Canadians want to see from this govt. #cdnpoli

— Tom Mulcair (@ThomasMulcair) May 10, 2016
Liberals just moved closure on #budget2016 #C15 - 3rd time this session. 3 more times than I expected before 2019. #cdnpoli #GPC

— Elizabeth May (@ElizabethMay) May 10, 2016
Not really. I am torn between being baffled and disappointed. The way PMSH ran things has hurt our system. @seanadb

— Elizabeth May (@ElizabethMay) May 10, 2016
#lpc moves closure again- budget bill now. They promised to set a new tone in House. Instead- sunny ways became dark ways. #ndp #cdnpoli

— Peter Julian (@MPJulian) May 10, 2016
Liberals say Parliament has debated #Budget16 for19 hours & say that is enough. #NDP say spending $200 billion deserves scrutiny. #cdnpoli

— Don Davies, MP (@DonDavies) May 10, 2016
LeBlanc later told reporters to discount the "fabricated indignation" from some opposition members. He called time allocation a "very necessary and normal tool to advance legislation through Parliament" when parties can't reach an understanding on the amount of speakers on a particular bill.
"The Conservative government in previous Parliaments sometimes allowed only 10 hours of debate at the second reading stage, where we are now in our budget bill," he said. "At the end of today, we will have had 19 hours of debate. Their budget bills were omnibus bills and were considerably longer.
"But make no mistake about it, the opposition wants the government to be in this position where we have to use time allocation to get our legislation through."
'If it walks like a duck...'
New Democrats are also charging that C-15 is an omnibus bill that lumps a number of wide-ranging changes into one piece of legislation.
The Liberal Party platform criticized former prime minister Stephen Harper's use of omnibus bills to "prevent Parliament from properly reviewing and debating his proposals." Grits pledged to "bring an end to this undemocratic practice."
Last week, New Democrats charged in a media release that Liberals were taking a page from the Tory playbook by pushing changes to dozens of laws in C-15. They called on Liberals to split the 179-page bill in two so that measures could be analyzed and scrutinized.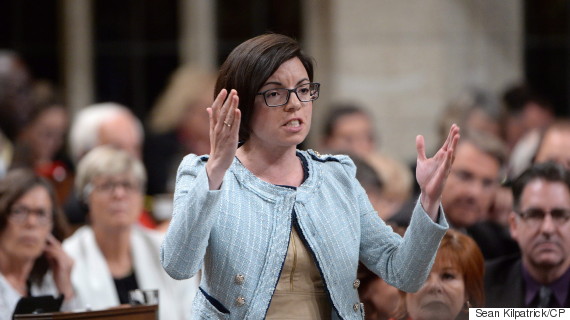 NDP MP Niki Ashton speaks during question period in the House of Commons on June 2, 2015. (Photo: Sean Kilpatrick/Canadian Press)
In question period on Monday, NDP MP Niki Ashton rose to say C-15 will amend 35 other bills.
"As they say, if it walks like a duck and quacks like a duck, then it is an omnibus budget bill," she said.
She called on Liberals to split the bill "so that changes to EI, veterans' benefits, seniors support, and banking regulation all get the proper study they deserve."
"As they say, if it walks like a duck and quacks like a duck, then it is an omnibus budget bill."
— Niki Ashton
Finance Minister Bill Morneau said the government wants to be "clear and open" with Canadians.
"The measures in our budget are all in our budget implementation act," he said. "There are measures there that are just related to our budget. We know that is the appropriate way to move forward."
Morneau said the bill has "the number of pages it does" because the Liberals' plan is ambitious.
The previous Tory government curtailed debate more than 100 times in the last Parliament. Harper was in the House of Commons Tuesday to vote against the Liberal motion.
Also on HuffPost
Federal Budget 2016 Highlights