After sexual assault charges against Jian Ghomeshi were withdrawn Wednesday, his lawyer said she hopes the public can move on from the case.
In her statement to the court, Marie Henein said her client has gone through a difficult time. During the past year and a half, he was out on bail with restricted freedoms, and subject to intense public scrutiny.
"The last 18 months are one of the most difficult I have witnessed anyone ever having to withstand. I do not think many of us would have been able to do so."
The former CBC host signed a peace bond and apologized to a former colleague for his actions. He was also acquitted in March of earlier charges of assault and overcoming resistance by choking.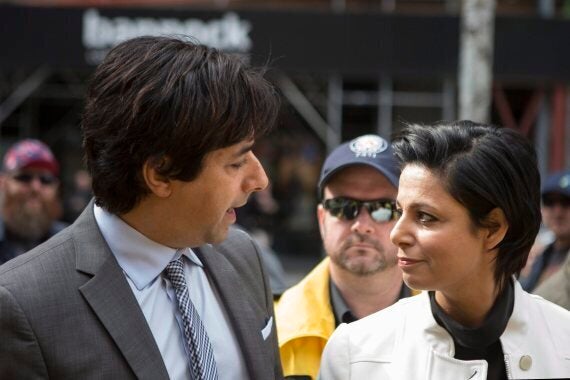 Former CBC radio host Jian Ghomeshi arrives at a Toronto court with his lawyer Marie Henein on May 11, 2016. (Photo: The Canadian Press)
She said Ghomeshi's apology shows that he has taken time to reflect in a "meaningful way."
"With dignity and the solemnity that is appropriate, he has demonstrated his respect for the judicial system throughout," she said.
"With this apology, Mr. Ghomeshi has done everything the Crown and the courts have asked him to do."
Henein also thanked Crown prosecutors for withdrawing the charges against her client.
"I am grateful to Mr. Callaghan and Ms. Klukach for their integrity," she said. "They did the right thing."
'Unrelenting public scrutiny'
The high-profile Toronto lawyer said she has never seen a case like Ghomeshi's in the last 25 years.
"I have never had a client be the subject of such an unrelenting public scrutiny and focus," she said in her statement. "I have been witness to it as closely as anyone can be."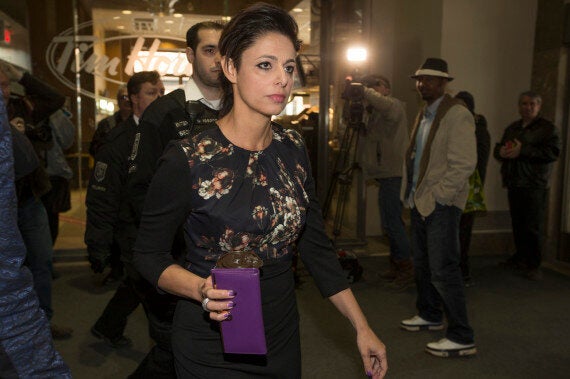 Marie Henein, after a court appearance on March 27, 2015. (Photo: Toronto Star via Getty Images)
Though she stayed out of the public eye for most of the trial, she gave an interview with CBC News' Peter Mansbridge in March.
She disputed criticisms that she was a traitor to women by defending Ghomeshi.
"I know my role in the justice system, and to characterize it in that way, that you are against women, is a fundamental misconception of what we do in the justice system," she said.
She also criticized NDP Leader Thomas Mulcair, a former lawyer, for making a statement about believing survivors of sexual assault hours before Justice William Horkins released his verdict.
"Hashtag 'I believe' is not a legal principle, nor should it ever be," she said.
Henein told the court Wednesday she hopes Ghomeshi and the Canadian public can move forward.
"While this matter has consumed the attention of so many, there are many equally important matters in this country that the public wants to know about and that I hope we can now turn our attention to."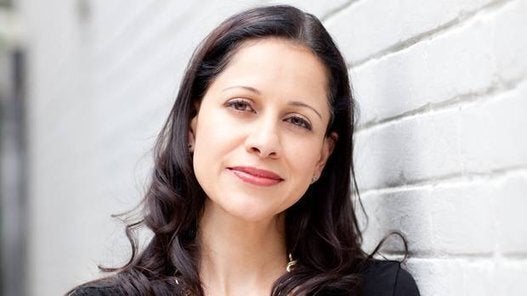 Jian Ghomeshi Case: A Timeline