The unofficial start to summer has arrived! After the Victoria Day weekend, you are probably even more excited about the hot weather coming our way and patio season. To get you in the mood for summer drinks and BBQs, you can create this summertime fruit nail art design.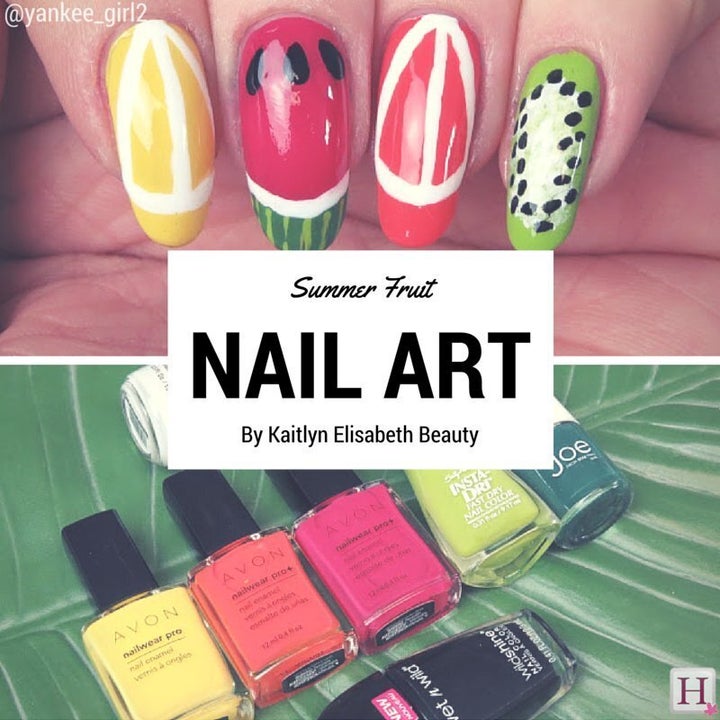 1. Paint your nails with yellow, pink, orange and lime green shades, and allow to dry after applying two coats.
2. For the lemon and orange nails, take a nail art brush and white polish to create a curved line near the tip of the nail. Then create a straight line in the middle of the nail from the curved line to the base of your nail. Create more segments by creating angled lines on either side of the middle line.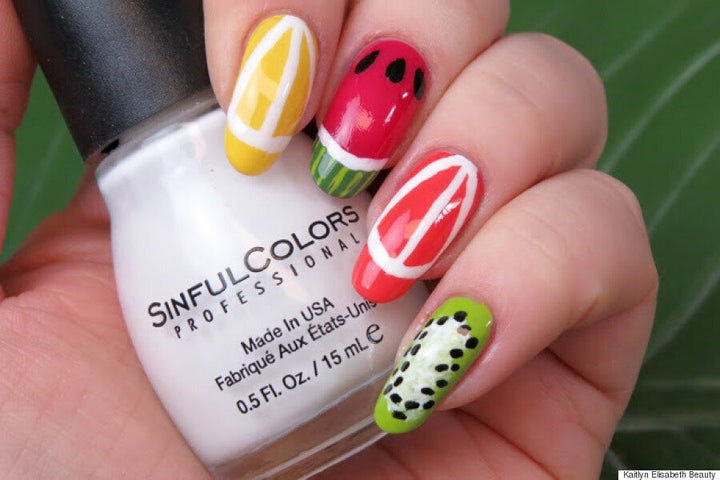 3. For the watermelon nail, use either a mid-tone green (or mix a dark and lime green, as used in this mani) and create a French tip. Take a lighter green and create small stripes on the green tip with a nail art brush. Paint a white line along the green tip with stripes to mimic the white rind of a watermelon. Finally, take a black polish and your nail art brush to create seeds near the base of the nail. For the seeds, you can start with a dot and then drag the polish to a point to make the teardrop/seed shape.
4. For the kiwi, take some white polish on a nail art brush that is slightly wet with acetone. Dab the white polish in the middle of the nail. Having the brush slightly wet allows the white and green to mix a little bit. Using a smaller nail art brush, take a black polish to create little seeds surrounding the white area in the middle.
5. Allow your designs to dry for about five to 10 minutes, and then apply a topcoat.
Polishes Used: Sinful Colors Snow Me White, Avon Sunshine, Avon Coral Beat, Avon Watermelon, Sally Hansen Lickety-Split Lime, Joe Fresh Mallard, Wet n Wild Black Creme