Liberals are hoping Canadians who attend or catch a glimpse of their party's convention in Winnipeg over the next two days see a modern, open, diverse and transparent organization.
More than 2,400 delegates, former election volunteers, candidates, MPs and the new cabinet, are expected in Manitoba's capital — for their first get-together since the party formed government last fall.
Much of the weekend's agenda is geared towards explaining to the party's grassroots what their team is doing in Ottawa. More than 12 hours have been set aside for sessions dubbed "real change at work," at which caucus members will explain to party faithful how they are implementing the party's platform.
In contrast, for example, only 6½ hours have been set aside for policy discussion.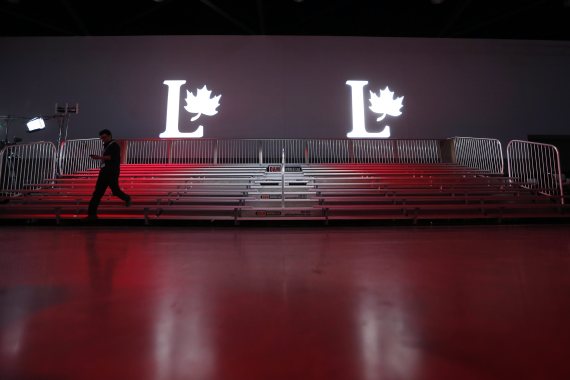 The plenary hall is prepared for the opening ceremony of the 2016 Liberal Biennial Convention in Winnipeg, Thursday, May 26, 2016. (Photo: John Woods/CP)
Liberal party spokesman Braeden Caley said the "real change at work" sessions will be a Canadian first — delegates will be able to question MPs and cabinet ministers at length in the presence of the media.
"That is going to be an incredibly open component of this convention that I don't think has much precedent among political conventions in Canadian history," he told HuffPost.
This is part of new trend, Caley said, to have more, and more open dialogue about the future direction of the party.
"The Liberal party of Canada is open to engaging Canadians and their ideas, to considering a wide variety of perspectives and contributing those new ideas to a more open, accountable and responsive, democratic process. That is what those "real change at work" session will highlight," he said.
Proposed constitution creating divides
His comments are in sharp contrast to the big policy discussion threatening to overshadow the Liberals' convention — the Grits' proposed new constitution.
Prime Minister Justin Trudeau said in April that he hoped delegates would approve a new constitution in Winnipeg that eliminates party memberships completely. It also, however, centralizes and streamlines decision-making, taking it away from unwieldy committees at which riding associations have more input and moving it towards the leader and a smaller leadership team.
Some members, such as Kingston and the Islands's riding president Tom Addison are actively campaigning against the new constitution because it was presented, he said, with very little grassroots input.
Caley, however, notes that more than 2,100 Liberals provided their input when the party asked in an email for their thoughts. The national board considered it. Five provincial conventions discussed it and two national telephone town halls were also held, he said.
Before the vote on the constitution takes place on Saturday, party president Anna Gainey will hold a question and answer session on Friday afternoon.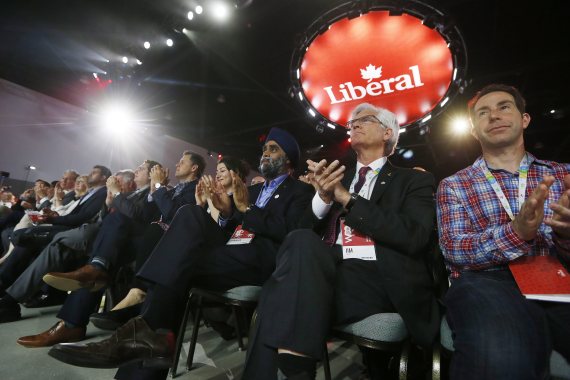 Liberal caucus members enjoy the opening ceremonies of the 2016 Liberal Biennial Convention Winnipeg Thursday, May 26, 2016. (Photo: John Woods/CP)
Before she speaks, however, Trudeau's chief of staff, Katie Telford, will take the stage to explain, in her capacity as former co-chair of the national election campaign, how the Liberals won the last election and how they plan to do it again.
Liberals will discuss U.S. digital campaign tactics and there will be training sessions aimed at campaigning to young Canadians and to residents in rural or remote areas.
Ontario Premier Kathleen Wynne, Heritage Minister Mélanie Joly and environmentalist Steven Guilbeault are also scheduled to give speeches.
Friday evening, delegates will have 1½ hours to approve new policy resolutions. Caley stressed that approximately one-fifth of resolutions at the convention in Winnipeg are focused on support for indigenous peoples and indigenous rights.
Other interesting resolutions include calling for:
The federal government to develop with the provinces a a poverty reduction strategy aimed at providing a minimum guaranteed income;
A new national program to approve universal palliative and home care in each province;
Access to safe drinking water to be listed as a human right;
A task force for the elimination of all forms of Islamophobia;
The establishment of national standards for carbon pricing within which provinces and territories can establish a price on carbon in the best way for their regions;
The formation of a panel to study how to improve the prevention, reporting, and the prosecution of sexual assault;
The immediate repeal of bill C-51;
The voting age to be lowered to 16.
"While the Conservatives are debating matters that I think most Canadians think were settled a number of years ago, like same sex marriage," Caley said, "in our speakers, in our featured guests, in our policy resolutions, and our 'real change at work' session, [we have] a really forward-looking agenda that is focused on growing the economy, supporting middle class Canadians and on making government more open and accountable."
PM to review government's progress
Trudeau will address delegates on Saturday when he arrives from Japan where he is attending the G7 meetings.
Caley said Trudeau would be thanking Canadians who got involved with the Liberals' campaign, especially the organizers who spent hundreds of thousands of hours knocking on doors across the country.
"He'll be reviewing progress on the platform since the 2015 campaign…[and] he'll also be speaking about how the Liberal party of Canada needs to keep opening itself to Canadians' ideas; how it needs to modernize itself, and [how] unifying its constitution [is] one significant way that it can continue building up to an effective campaign once again in 2019."
The vote on the constitution will take place after Trudeau's speech Saturday afternoon. A two-thirds majority is needed for it to pass.
Also on HuffPost:
Trudeau's 7 New Senate Appointments