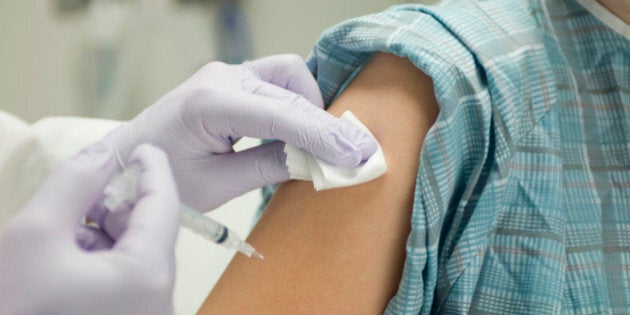 Alberta health professionals are concerned that a controversial anti-vaccine film is being screened in the province.
"Vaxxed: From Cover-Up to Catastrophe" played in Calgary in June and is currently playing at an Edmonton theatre.
The film was directed by Andrew Wakefield, a former doctor who was stripped of his medical licence in the UK after publishing a fraudulent study falsely linking vaccines to autism, according to The Huffington Post.
"Vaxxed" has been pulled from the lineup of a number of major film festivals including the Tribeca Film Festival over concerns from the scientific community, The New York Times reported.
"Vaccines are a victim of their success."
Tim Caulfield, a health researcher at the University of Alberta, is concerned the film could increase rates of people choosing not to vaccinate their children.
"Would [the theatre] show a film about racism that supports discrimination against a particular sector of our society? Probably not. Would they bring in a film that supports eugenic activity? Probably not. So there is a line… and for some reason they decided this film that really creates and supports inaccurate health myths is OK and I think that's problematic," he told Global News.
The Alberta couple were found guilty in the death of their son from meningitis. Their boy, Ezekiel, died in 2012 after they treated him with natural remedies instead of taking him to a doctor.
The live interview was recorded on Facebook where hundreds argued in the comments over a parent's right to vaccinate or not vaccinate their children.
"People aren't seeing kids on an everyday basis dying of measles or diphtheria. When you don't have that fear, it's easier to concentrate on real and imagined risks,"