Following the UK's stunning Brexit vote in June, Brits joined the legions of Americans fantasizing about making the move to Canada.
The interest in relocating to the Great White North has become so strong that Google searches for "move to Canada" recently hit an all-time high.
"No doubt some will be attracted by the country's breathtaking scenery and wide-open spaces (it is the second largest country in the world)," the BBC says in an article published Thursday. It praises Canada's friendliness, warmth shown to immigrants, and its prime minister.
'I was very wrong'
Except it then ominously extremely politely asks: "But surely there are some drawbacks?"
The piece dives into some things Brits should consider before moving to Canada, starting with bugs.
Yes, bugs.
Ollie Williams, a BBC Sport reporter who lives in the Northwest Territories, told the broadcaster the scourge of bugs caught him off-guard.
Example: This was the horrifying scene outside my tent - on a lake north of Yellowknife - on Saturday morning. pic.twitter.com/hHGauWad9v

— Ollie Williams (@OllieW) July 5, 2016
"For some reason, I had in mind that a place that's frozen for more than half the year can't be home to bloodthirsty insects the size of your thumb," Williams says.
"I was very wrong about this. It turns out the mosquitoes just cryogenically freeze themselves all winter, then pop back out in spring, ready to obliterate all exposed skin when you try to take the dog out at night."
Even the Northwest Territories government's website says there are 9,000 plus species of insects that live within its boundaries — as well as 268 species of spiders.
We're going to guess many of these are absolutely mortifying.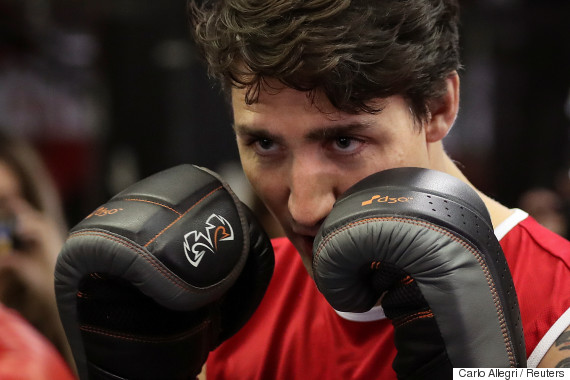 The BBC article says Prime Minister Justin Trudeau is still proving himself. (Photo: The Canadian Press)
The article addresses some of Canada's more serious problems, of course, like its preposterous housing market, income inequality and the horrific situations in First Nations communities such as Attawapiskat.
Its last point to potentially-Canada-bound Brits?
Prime Minister Justin Trudeau is still proving himself.
"Much of the media attention has focused on the 44-year-old's athleticism and photogenic appeal," the article says. The broadcaster spoke to Canadian writer Lauren Messervey, who said Trudeau has a "pretty boy" image to shake off.
"Trudeau has had to take himself to task and prove to governing officials, public opinion, and international leaders that he is more than just a pretty face," she said.
So there you have it, Brexit-exiters. You're totally welcome here, as long as you adore bugs, cherish renting and can tolerate a sort of newly-elected prime minister.
Also On HuffPost:
Things Canadians Wish Americans Knew About Us