Until we saw her, the Rio Olympics' opening ceremony was, shall we say, a fairly subdued affair in terms of style.
Aside from that brief glimmer when Gisele strutted through Maracana Stadium, most countries kept it tame during the Parade of Nations Friday night.
And then, Team Jamaica's ombre goddess graced our screens.
Love the hair! #Jamaica #OpeningCeremony #Rio2016 pic.twitter.com/EsqxtPnFPl

— dreamer (@road2kismet) August 6, 2016
Her golden-green tresses, the same colours as both Jamaica and Brazil's flag, cleansed us of any Olympic weariness. She led her fellow Jamaican athletes, some decked out in yellow jumpsuits à la "Kill Bill," because they obviously came to Rio to slay.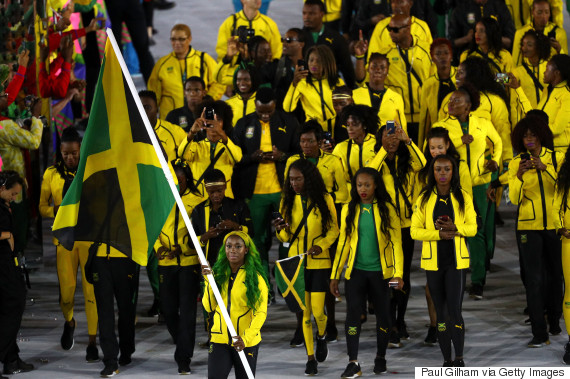 Twitter, shaken from the monotony of prep school blazers and flight attendant aesthetics, could not get over Jamaica's flagbearer.
YO JAMAICA'S FLAG BEARER'S HAIR IS LIT

— beaver (@gillianandersin) August 6, 2016
Team Jamaica all the way...Shelly Ann hair a beat dem bad a'ready.... #OpeningCeremony

— @Diamondstarr22 (@Diamondstarr22) August 6, 2016
That hair alone tells Jamaica's story

— FitLike A. Horse (@Mzz_Porsche) August 6, 2016
JAMAICA'S FLAG BEARER HAS THE PRETTIEST GREEN OMBRE HAIR IM CRYING

— world princess (@negaysonic) August 6, 2016
Jamaica's flag bearer dyed her hair to match the flag shut it down everyone go home she wins #OpeningCeremony

— jenn (@holybatman) August 6, 2016
Who is she? Our saviour is Shelly-Ann Fraser-Pryce, Jamaica's track-and-field sprinter. Nicknamed "Pocket Rocket" for her short stature, Fraser-Pryce, 29, was once called the Jamaica's greatest female sprinter, the Jamaican Observer reports.
Pocket Rocket herself, Shelly-Ann Fraser-Pryce carries the flag proudly for Jamaica.
MORE: https://t.co/h1p4kFrXJa pic.twitter.com/ETrI3ClGvv

— CCN TV6 (@tv6tnt) August 6, 2016
She can add "greatest hair at the Olympics" to her list of achievements.
Fraser-Pryce had dyed her hair before the opening ceremony, and was spotted jogging with her golden-green locks during a practice session in Rio.
.@realshellyannfp 🇯🇲 sporting yellow & green hair jogs 🏃 during training. - @rmakyn #JAinRio #RioGoldRush #Rio2016 pic.twitter.com/Dd1Dg5XNtF

— Jamaica Gleaner (@JamaicaGleaner) August 2, 2016
And she looks just as gorgeous in a sunflower crown, in pink, or with green braids.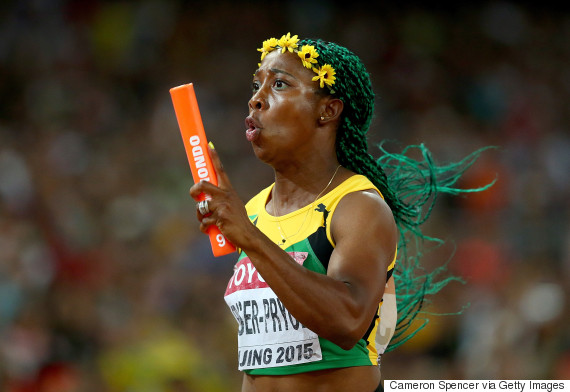 Only @realshellyannfp 💅🏾 her hair in 2013, 2014, 2015 and 2016 #Jamaica #Rio2016 #OlympicGames pic.twitter.com/hGJ8VWNlXd

— fraser-pryce (@hausofaitor) August 6, 2016
With hair that good, we say pack it up, folks. The Olympics have peaked. Fraser-Pryce is serving looks too fast and too flawless for anyone else to compete.
Also on HuffPost
Rio Olympics 2016 Opening Ceremony