Gisele Bündchen's walk at the Rio Olympics opening ceremony had some viewers wondering if she should inspire a new Olympic event, and others pondering why it was necessary in the first place.
The the Brazilian supermodel came out of retirement to walk a very long catwalk to the song "The Girl from Ipanema" during Friday's opening ceremony.
The strut definitely got people talking – and Googling.
According to Google Trends, following her uber long walk across the stage, searches for Bündchen's name topped its trending list.
But some viewers cringed at the model being featured so prominently.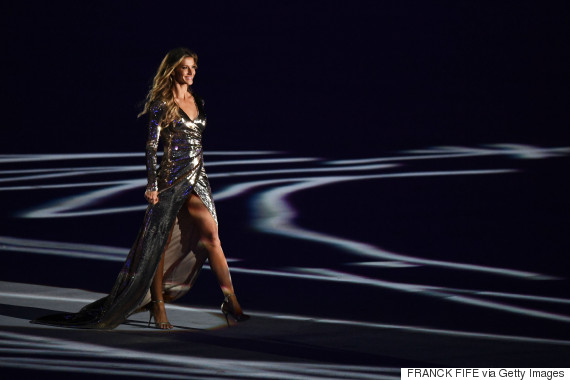 Brazilian model Gisele Bündchen's walk across the stage at the Rio Olympics opening ceremony got mixed reactions from the public. (Photo: Franck Fife/Getty Images)
Feminist commentator Letícia Bahia criticized optics of the strut to New York Times article, saying the choice to have Bündchen represent Brazil fails to display the country's racial diversity.
"What does it say about a mixed-race country, boasting about its pride over miscegenation, to choose a supermodel who is white, ultraskinny, blond and blue-eyed to represent the women of Brazil?" Bahia told the Times.
Other viewers were very pointed about the segment calling it flat-out "dumb."
Brazil has given so much more to global culture than "Gisele walking."

— Dave Zirin (@EdgeofSports) August 6, 2016
Gisele is a stunning looking human but taking a LONG final catwalk strut b4 retiring from modelling in Rio opening ceremony was just weird

— Denise Scott (@_denisescott) August 6, 2016
I promised myself I wouldn't say how much Gisele walking across a fucking stage was the dumbest thing. But I digressed. It was dumb.

— SheBreathes™ (@SheBreathes) August 6, 2016
NBC also faced some flack over its generous camera cuts to the supermodel in the audience. That, among many other gripes Americans had with the network's broadcast. (Three cheers for Canada.)
NBC can stop showing Gisele dancing in the crowd. We get it, she's there and she's dancing, but so is everyone else

— Cami Mathews (@CamiMathews27) August 6, 2016
Of course, some people weren't super jazzed over the model's final sashay.
Gisele literally just walked across the stadium and it was an event

— Richard Lawson (@rilaws) August 6, 2016
Gisele's still walking. She's out the stadium and heading into downtown Rio. She cannot be stopped. #OpeningCeremony

— Dave Turner (@mrdaveturner) August 5, 2016
What do you think?
More Olympics


Also on HuffPost
Rio Olympics 2016 Opening Ceremony