Michael Phelps just proved nothing can faze him. Not even a useless swim cap.
After taking home his 20th gold medal (!!!) in the 200-metre butterfly on Tuesday evening, the 31-year-old "magnificent human/dolphin hybrid," as described by GQ, geared up for the 4x200-metre medley with teammates Ryan Lochte, Townley Hass and Conor Dwyer, ready to snag his 21st gold medal.
Seconds before diving into the pool, the anchor grabbed his swim cap to prepare for world Olympic domination.
Phelps was pumped. Game face on. He was ready to get in the water.
And then, the unthinkable happened.
Michael Phelps wins 21st gold medal, despite breaking his swim cap: pic.twitter.com/3mPJb1j3Jp

— Deadspin (@Deadspin) August 10, 2016
Disaster. A ripped swim cap. Right before one of the biggest races of his life.
But the most medalled Olympian of all time didn't panic.
Let's not forgot that this was a team event. Enter hero of the night, teammate Connor Dwyer, who had just stepped out of the pool after his swim.
Phelps asked to have Dwyer's cap. Dwyer helped Phelps put it on his head. They struggled. Michael basically said, "Dude, no worries, I got this." He got the cap on his head effortlessly before entering the pool and leading his team to victory.
#USA Michael Phelps had a few issues with his swim cap prior to his race #Rio2016 #Swimming https://t.co/JAoL0ve2RK https://t.co/Hs1B6M7L5G

— CBC Olympics (@CBCOlympics) August 10, 2016
Although the wardrobe malfunction was a bit of a scare for Phelps fans, the moment allowed many to find inspiration:
If Michael Phelps can rip his swim cap and still win a gold medal then I guess I can go to school

— Jonah (@jonahallen14) August 10, 2016
Michael Phelps doesn't need a swim cap.

21.#USA

— Seth Rothman (@SethDRothman) August 10, 2016
And in an interview with the Chicago Tribune, Dwyer discussed what exactly had happened during the race that saw Team U.S.A finish a whole 2.47 seconds faster than Great Britain, who took home the silver.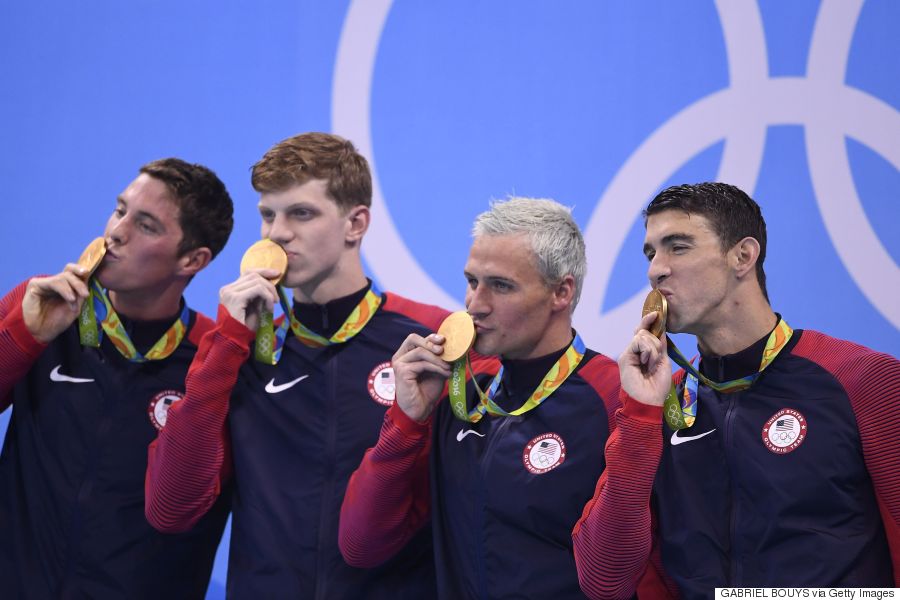 "I finished my leg and [Phelps] tapped me on the shoulder … and I heard him say, 'Diddy, look at my cap, I don't have a cap,'" Dwyer said. "We have different sponsors so I think he had to wear an all-black cap, so we reversed it. A different cap won't stop that guy from having a good split."
#SquadGoals
All we can say is we think Conor Dwyer's swim cap deserves a medal of its own.
For more of incredible moments from the 2016 Rio summer Olympics, click on the slideshow below:
Mesmerizing Photos From Rio Olympics 2016
Follow Huffington Post Canada Style on Pinterest, Facebook and Twitter!