Narrow gender expectations, meet your match.
It all started when two children's magazine covers ignited the Internet for showing the dramatic difference in expectations for boys and girls in society.
Girls' Life magazine, a publication for tween girls, was criticized widely for emphasizing "dream hair" and attaining physical perfection through "waking up pretty."
On the other hand, Boy's Life magazine had a cover all about adventurous jobs, one that suggested limitless potential for the newest generation of firefighters, pilots, and doctors.
'WAKE UP PRETTY'

v.

'EXPLORE YOUR FUTURE' pic.twitter.com/PgRjUWzCGN

— Anne Helen Petersen (@annehelen) September 1, 2016
Graphic designer Katherine Young was not having any of that.
"The worst part for me was 'Wake Up Pretty,'" she told Mic.
"I mean what the hell kind of unattainable standards are we setting for kids? Being a girl is hard enough without thinking you are somehow a failure just by waking up in the morning."
With 10 minutes of free time, she edited a brand new cover for Girls' Life, celebrating doing good over looking good.
Suck it #GirlsLife. #DoBetterhttps://t.co/KH3vl1p8AIpic.twitter.com/taHAFN4Ds1

— Katherine Young (@Katersbonnevill) September 8, 2016
Gone were the headlines promising beauty tricks and navigating toxic friendships.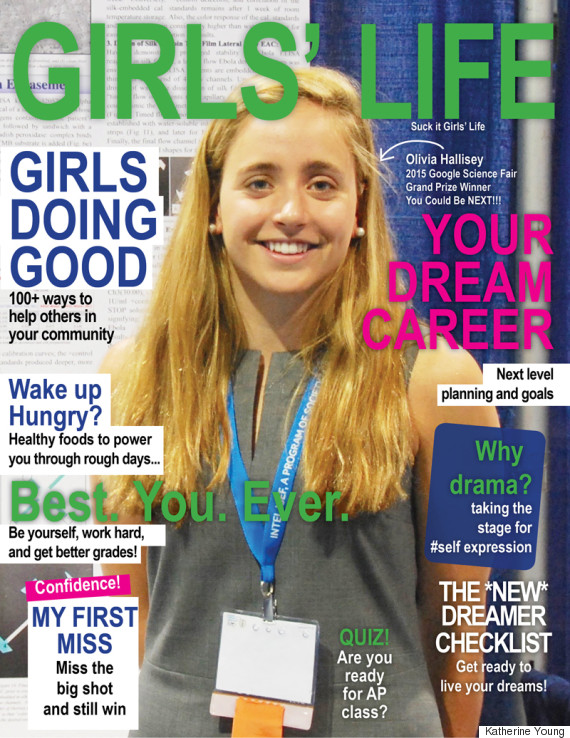 The new and improved Girls' Life cover hinted at stories on healthy food security, projecting confidence, and acing advanced classes.
The redesigned cover had an appropriate cover girl in Olivia Hallisey, the teen scientist who won Google's Science Fair in 2015 with her invention of a $25 Ebola test.
Judging by the social media fanfare, Young's redesign is a welcome change.
Someone publish a magazine like this (or holler if it already exists). Wish I had this when I was a teen. https://t.co/eJlULsLemU

— Jordan K. Turgeon (@jordanturgeon) September 12, 2016
Best 👏 you 👏 ever ✨ Love @Katersbonnevill's take on what Girl's Life mag should be teaching girls! pic.twitter.com/4LfnSWSrH9

— GoldieBlox (@goldieblox) September 10, 2016
2015 Google science fair winner on the cover? Where can I buy for all the young ladies I know....and me?! #iwishhttps://t.co/EuI6rhuR4g

— Jennifer Ham (@metafizzical90) September 9, 2016
Girls' Life Magazine responded to Young's redesign directly in a statement to Mic.
"We are so proud of every page in every single issue. Girls' Life serves a dynamic audience of 2.16 million tween and teen girls who have a variety of passions," they state.
In an interview with Snopes, Girls' Life publisher and founder Karen Bokram says that adults were projecting their interests onto the magazine cover and that the publication has previously reported on bullying and cancer awareness.
"I put this stuff in there, and once I point it out, people say — okay fine, you have a lot of high quality content, but you still should have it on the cover! And I'm like, okay, so we're shaming girls for having interests that aren't aligned with what you think they should be interested in?" Bokram says. "So getting good grades and making friends — which is on my cover — isn't within your wheelhouse? "
But the fact that Young's redesign has made waves online suggests that covers do make a difference.
Girls need to be taught they are more than a pretty face and boys need to be taught that, too," Young told Mic.
Also on HuffPost